The PPAI Expo is a wrap! Occurring just two short weeks after the start of the new year, the Expo continues to serve as a motivational jumpstart to what will be a fresh and exciting new year in the world of promotional products. If you're like OrderMyGear, you discovered new products, learned about industry trends, caught up with friends old and new, and had a blast.
Here are a few of the nuggets we took away from the Expo that we hope help to spark a little creativity and excitement for you and your team:
Strong appetite to learn
The PPAI Expo was kicked off with conferences and sessions that enlightened, inspired, and trained attendees around a variety of topics and industry issues. The learning fueled in the days leading up to the show was palpable as the show floor opened, where attendees connected with more than 1,200 vendors to talk products, strategy, and all things promo in the massive exhibitor hall. Over 100 educational sessions were offered with dynamic speakers and educators from across the industry.
Dr. Rick Rigsby made us laugh then cry by exploring impact, connection, and impression both personally and professionally.
Ben Nemtin inspired us to think beyond the bounds of our imagination, taking achievable steps to tackle impossible dreams.
Kathy Houston taught us how to reduce friction in the buyer's journey by improving communication with customers in a variety of channels.
Ryan Sauers showed us how to take customer conversations past the topic of price and into true value by building a meaningful brand and customer experience.
…and that's just to name a few.
The emphasis on education at the PPAI Expo is proof that distributors and suppliers seek to drive trends, expand their expertise, and ultimately give their customers the best possible experiences.
Powerful sense of community
Reflecting on this year's PPAI Expo, PPAI Media stated that the Expo had over 13,000 attendees from 4,300 distributor companies representing 30 countries, echoing the fact that "the PPAI Expo continues to be the largest industry trade show in North America."
That's a lot of people!
Each of these individuals brings an incalculable amount of ideas, experiences, interests, and expertise all together under one roof! The PPAI Expo is a unique opportunity to facilitate collaborative conversations and brainstorming to improve individual businesses and elevate the industry as a whole.
While the show floor is a valuable place to make connections, complementary events like the alphabroder Party, PromoKitchen Mixer, and SPARK Community Service Project allow people to enjoy Vegas while getting to know others in the industry.
Year after year, connections are made and friendships are strengthened, leading to a strong sense of community.
Apparent expectation of change
Changing legislation, increased customer expectations, and sustainable resources are just a few of the concerns looming in the promotional products industry. Molly Fletcher touched on the dynamic nature of the market, knocking it out of the park when she discussed the power of leaning into change and having confidence in the fact that a better version of ourselves would be on the other side.
Approaching change with confidence is essential, and luckily, suppliers recognize the importance of providing products that allow distributors to adjust with the changing tide. The show floor displayed products that were sustainable, recyclable, ethically sourced, creatively reused, and responsibly created.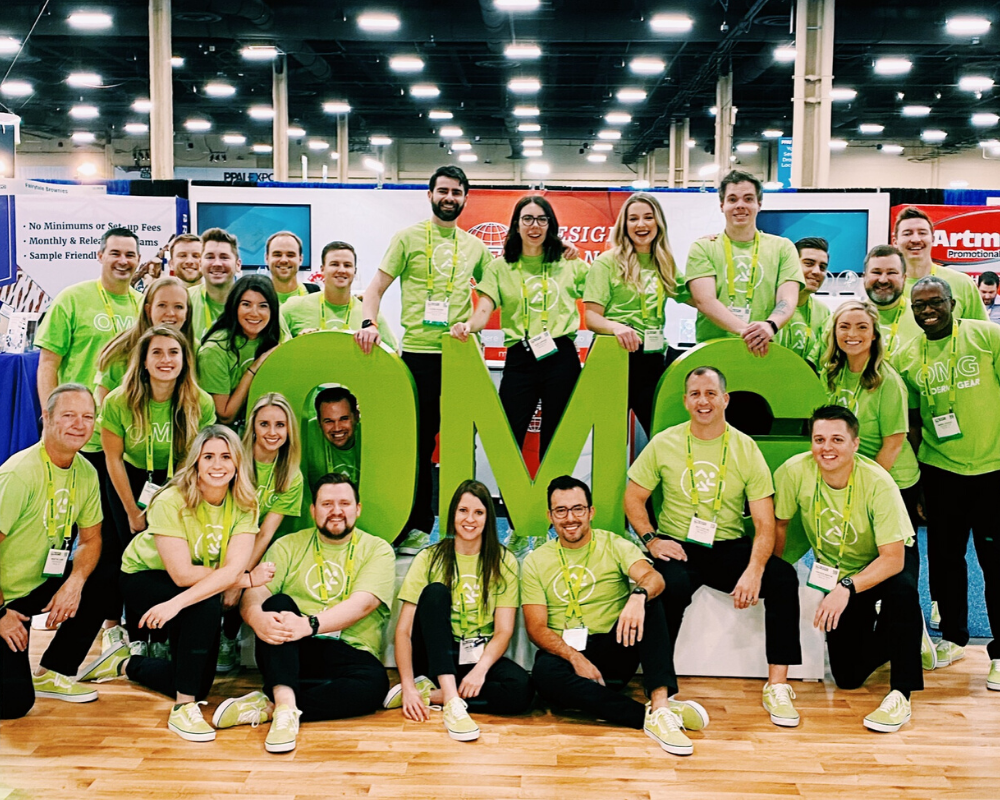 While the market is undergoing dramatic shifts, distributors and suppliers are well prepared to respond because of the support they receive from each other, education they receive from associations like PPAI, and products they receive from suppliers.
It wouldn't be a true "The PPAI Expo Highlights" post without mentioning these…

Bonus Point: The Pink House was a standout experience
One of the most talked-about displays at the Expo was the pink house from Numo Manufacturing, who had a unique way of showcasing their products… including a bubble pit pool on the sun deck!

Bonus Bonus Point: OMG'ers were fans of the animals
The OrderMyGear Team took full advantage of the event, interacting with and snapping pictures with goats, SnugZ llamas, and puppies, making the show experience that much sweeter.
We had an incredible time at The PPAI Expo, and are thrilled to see you all again next year!
About OrderMyGear
OrderMyGear is an eCommerce platform delivering clients the ability to create unique online stores with personalized apparel and gear for corporations, teams, and schools. Our solutions give businesses the advantage of cutting-edge technology to efficiently sell customized merchandise online. Through our integrations and partnerships with all major sporting brands and apparel designers, along with our custom website builder, we simplify the collection, customization, and distribution of products to the end consumer. With over 11 years in the technology industry, more than 2,500 clients and nearly a billion dollars in processed GMV, we consider ourselves to be the leading experts in customized group demand for eCommerce.
For more information, visit the OrderMyGear website here.
Media Contact: Hayley Bell | hayley@ordermygear.com | 214-396-2110