Congratulations, your client is in! Now, what needs to be done to ensure this online store is a success?
There are two key components to driving sales and ensuring your online store's success:
Creating a strategy-driven online store, and

Involving clients in communicating it.
We'll be discussing that first point here today, and outlining the second point in Step 5!
Creating a Strategy-Driven Online Pop-Up Store
Before opening up the store to customers, you'll want to ensure that you set up your online store for success! Here's how to do that:
Order Deadline
Create a sense of urgency to entice customers to place their orders, instead of opening a stagnant always-open store. Be sure your order deadline is clearly defined on the storefront (and throughout the ordering process and communication).
Tip : Opening an online pop-up store for 10-14 days proves to be most profitable.
Products
Bring your product expertise to the client pitch meeting to determine the right kinds of products to include in the online pop-up store. Come prepared with seasonal items, good-better-best options, and trending or tried-and-true products.
Tip : Offer a select grouping of 10-20 products with no more than 2 or 3 logo design options to avoid customer decision paralysis, and maximize sales while simplifying order fulfillment.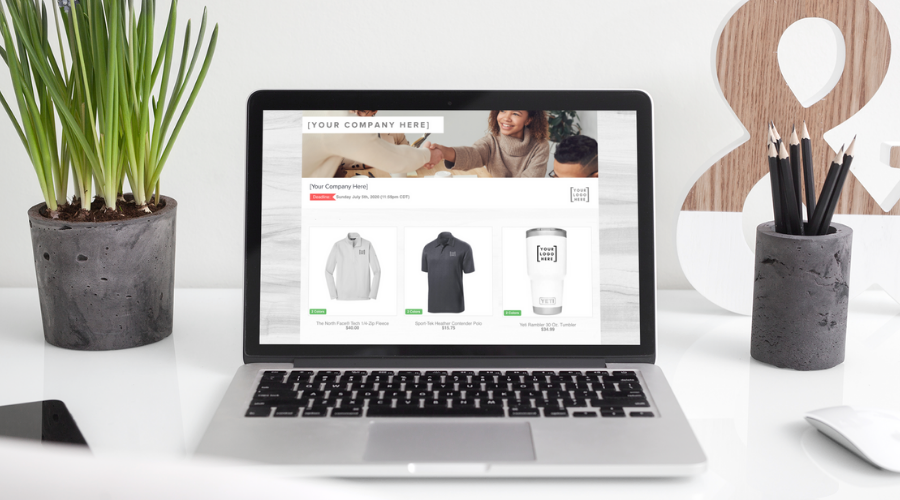 Branding
Beautifully- and accurately-branded online stores will ensure a positive and seamless customer experience. Customize each online pop-up store by using your client's logo, colors, and images. This makes it immediately obvious to consumers that they are in the right place, and that this online pop-up store has been tailored specifically for them.
Tip : Show your clients their own logo, brand, and colors on a sample store you bring to the pitch meeting! This will go miles in showing you as a thoughtful and creative professional.
Discount Marketing
Incorporating discount marketing elements, like product bundles, shipping discounts, or first-time purchase discounts, are an impactful way to encourage repeat business, generate new business, accelerate purchases, and increase sales.
Tip : Test different discount marketing strategies with your stores to gauge which have the most impact for your consumers.
Fulfillment Timeline
Clearly state and continually reiterate when orders are expected to be fulfilled throughout the ordering process. This helps consumers feel comfortable with their purchase, and limits distractions to your Team by fielding questions.
Tip : Consider offering pick-up, drop ship, or shipping options for consumers to select from.
Fundraising
Online fundraising initiatives have seen a significant uptick in popularity in recent months because they combine people's love of branded merchandise with an element of goodwill – meaning, everybody wins! Consider incorporating this element with your client to see if there is a cause that resonates with your audience.
Tip : Incorporating features like a fundraising tracker or countdown timer inspires more in-the-moment purchases and provides powerful social proof that others are also contributing to the cause.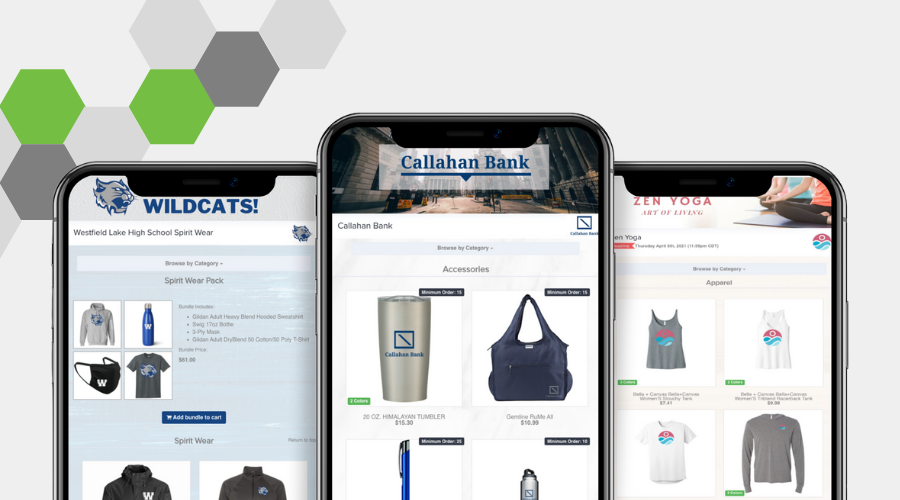 Additional Resources:
We've got your back! Here are additional resources to help create an online pop-up store destined for success:
Now that we've planned our store for success, we'll need to get our clients and accounts involved in communicating it. Jump over to Step 5 to discover strategies and access templates to involve your client in marketing their store!
Check out the other Online Pop-Up Stores 101 series posts!
Step 1: Understanding the benefits of online pop-up stores
Step 2: Identifying online pop-up store opportunities
Step 3: Effectively pitching your online pop-up store to clients and accounts
Step 5: Working with your client to market the online pop-up store
About OrderMyGear
OrderMyGear is an industry-leading sales tool, empowering dealers, distributors, decorators, and brands to create custom online pop-up stores to sell branded products and apparel. Since 2008, OMG has been on a mission to simplify the process of selling customized merchandise to groups and improve the ordering experience. With easy-to-use tools, comprehensive reporting, and unmatched support, the OMG platform powers online stores for over 3,000 clients generating more than $1 billion in online sales. Learn more at www.ordermygear.com.
Media Contact: Lauren Seip | lauren.seip@ordermygear.com | 281-756-7915