When a company goes the extra mile to make their employees feel valued as a whole, it makes for a happier and healthier individual. In turn, healthier and happier individuals seek to contribute more and can overall elevate the work environment for others.
One way a company can achieve this is by hosting a Wellness month. The primary focus of this month is to bring self-awareness, self-care, and healthy routines to an individual's daily life.
There are a variety of ways companies can spotlight health in the workplace during a Wellness month. Just get creative! Dive into the company culture and the local environment to come up with activities and ideas- even showcase employees who have hidden talents. The possibilities and activities are endless.
A good way to brainstorm ideas for this active month is to focus on activities and trainings related to the following subjects: .
1. Financial Responsibility
2. Mental Health
3. Emotional Health
4. Physical Health
Financial Responsibility
Connect with the finance or accounting teams to research any free tools that can be shared company-wide and use email blasts to spread the word.
At OrderMyGear, we chose to use Smartdollar, which has motivating content, budgeting tools, and step-by-step plans to save. In each email blast, OrderMyGear included a one-pager with quick helpful tips and tricks for saving. One of these one-pagers included a money challenge to save money in little ways throughout the week.
Another one-pager gave 5 suggestions on how to practice saving:
Emotional & Mental Health
An individual's mood can either make or break their day. Take action to impact your workplace energy by creating a more positive environment for employees.
Part of contributing to a good mood is helping employees recognize the impact of positive thoughts. Encourage employees to control negative thoughts by saying words of affirmation or thanks, or ask them to share one thing they are grateful for.
Meditation is also extremely important to the mental and emotional health of an individual. When practicing meditation, stress and anxiety are reduced while energy and vitality are increased. For activities involving meditation, a yoga instructor can lead a lunch-time session, or bring in a masseur to offer a 15-minute massage. There are also apps and YouTube videos that guide meditation sessions that can be distributed and encouraged.
Physical Health
Things like moving often, eating better, and drinking more, can make a big difference, even in small and simple ways.
Replace junk food by stocking up on healthy snacks like fresh fruit and trail mix. Substituting high fat and high sugar snacks with natural fats, proteins and sugars will aid in boosting the mood and getting rid of that mid-day slump.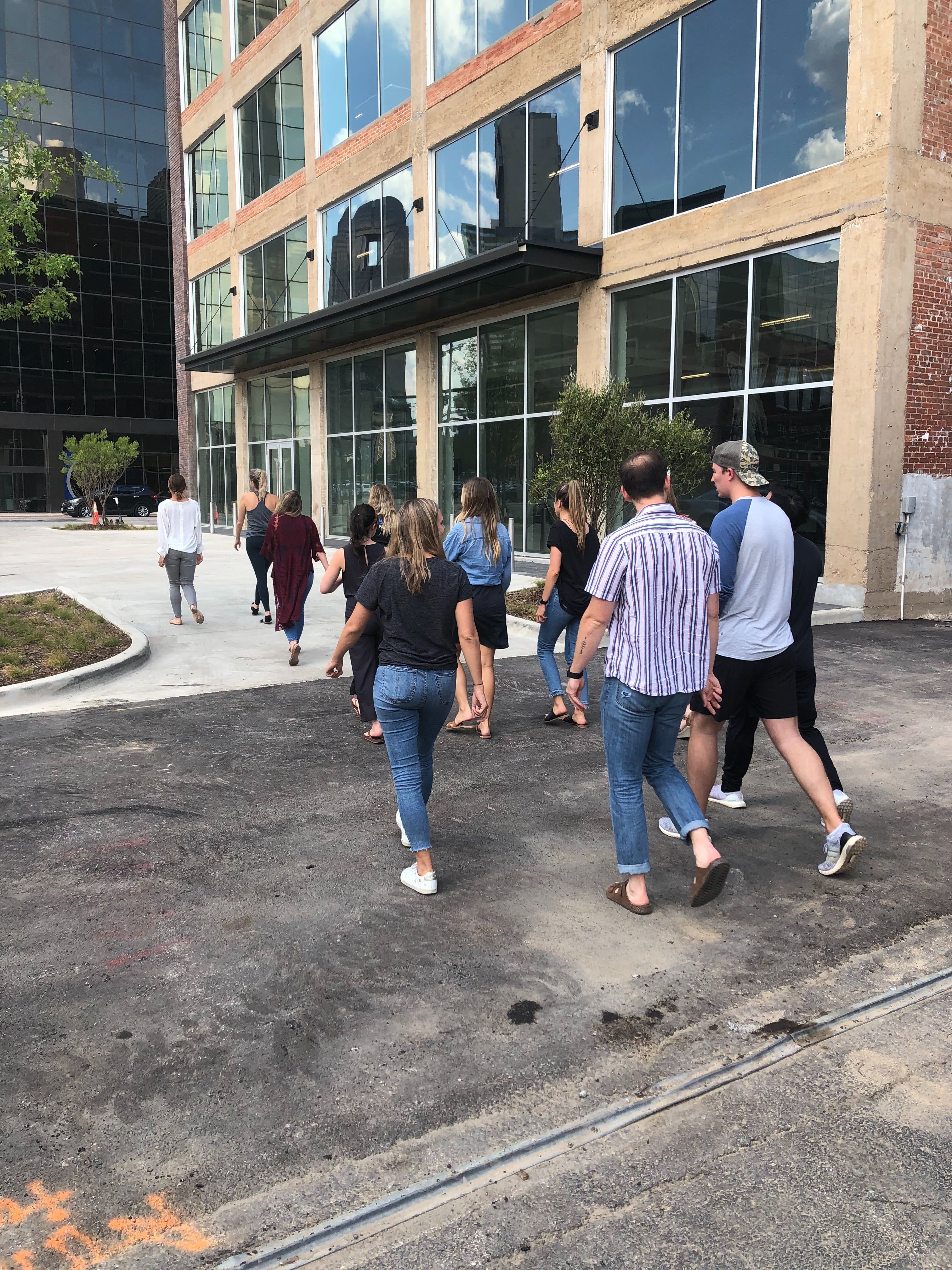 Every day at 4:00pm, OrderMyGear employees gathered whoever wanted to participate and went on a wellness walk. This wellness walk consisted of four laps around the building to get the blood flowing and soak in some vitamin D.
Another activity to promote physical health is serving a shot of apple cider vinegar in the morning. Not only will everyone get a good laugh from the reactions and facial expressions, but everyone will be bright-eyed and bushy-tailed for the day.
After an entire month full of healthy snacking and laughs, end the month with a bang. OrderMyGear ended our wellness month by giving each employee a bottle of Amavara sunscreen to protect their skin from the scorching Texas rays. Other end-of-the month gift ideas that will be sure to leave them excited about improving their health are essential oils, yoga supplies, gym bags, and fitness trackers. Figure out what activities the office enjoyed most and gear them up for next year!
If this isn't your first time hosting a wellness month, think of something new to implement that will enhance the health of your employees.
If this is your first time hosting a wellness month, then have fun with it!
The goal is to bring positive healthy initiatives into the workplace. Don't limit the company to one month. Take ownership of the company's wellness by practicing year round!
About OrderMyGear
OrderMyGear is an e-commerce platform delivering clients the ability to create unique online stores with personalized apparel and gear for corporations, teams, and schools. Our solutions give businesses the advantage of cutting-edge technology to efficiently sell customized merchandise online. Through our integrations and partnerships with all major sporting brands and apparel designers, along with our custom website builder, we simplify the collection, customization, and distribution of products to the end consumer.
For more information, visit the OrderMyGear website here.
Media Contact: Hayley Bell | hayley@ordermygear.com | 214-396-2110