With US online sales projected to reach nearly $600 billion in 2024 and eCommerce penetration on the rise, dealers, distributors, and decorators are getting creative to capture their share of the pie. Offering online stores to customers as an additional service is an increasingly popular solution to capitalize on the growth of eCommerce.
Retail eCommerce Sales in the US (in million USD)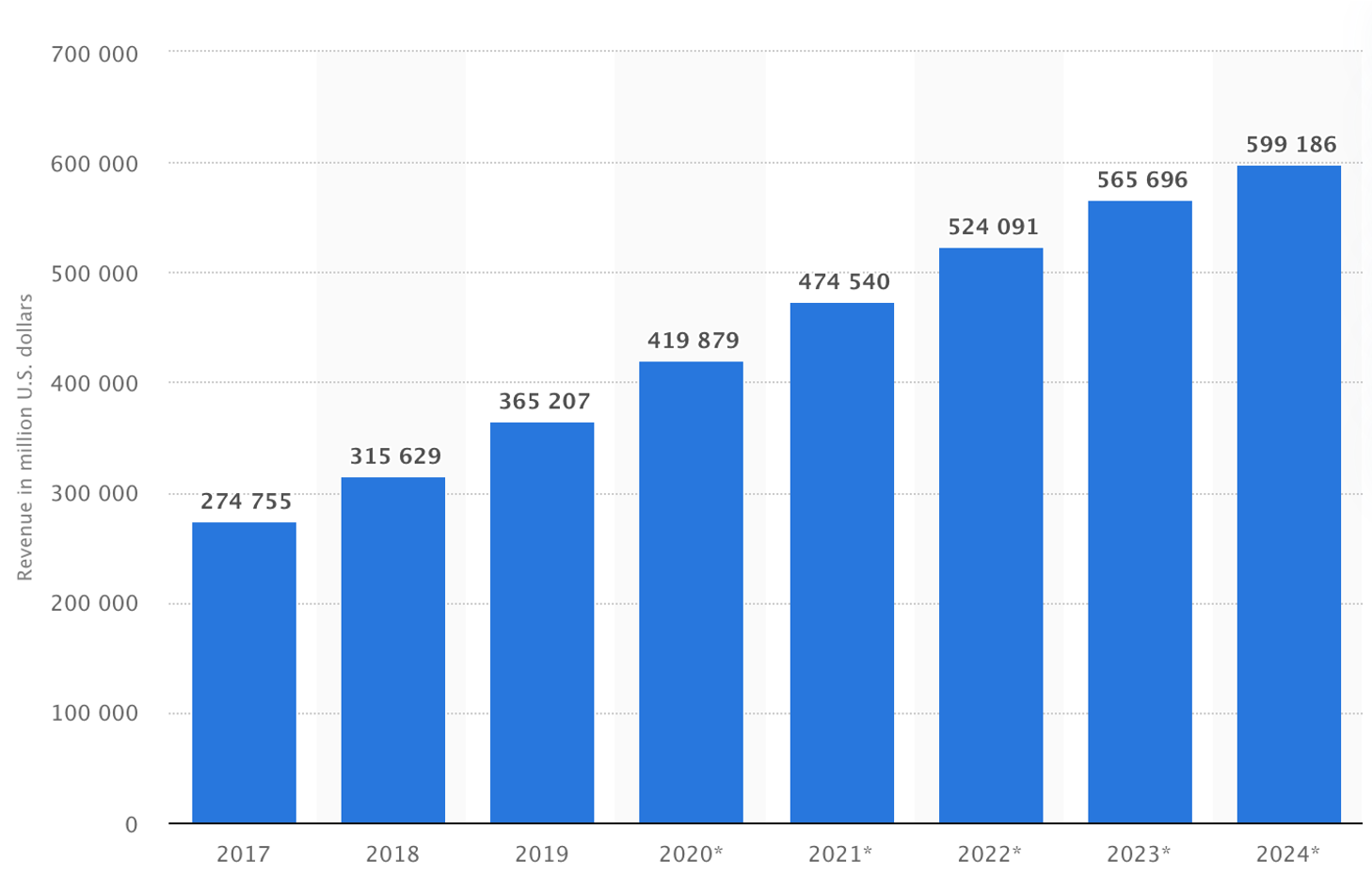 Online stores provide a number of benefits, including increasing sales and creating a seamless experience for both your customers and internal teams. Shifting time-consuming sales activities, such as collecting orders and payments, to an online store gives you an efficient, cost-effective way to serve more customers. Online stores also provide the convenience of online shopping end-consumers crave.
However, consumer expectations around products, shipping times, and pricing are already high, especially when there's an online store in the equation. Consider this – consumers began shopping online as early as 1995 when Amazon launched its online bookstore. Since then, major retailers like Walmart and Macy's have incorporated eCommerce as a major component to their sales strategy, effectively training end-consumers what to expect from an online store. The retail industry has set a high bar.
Consumers have a healthy appetite for online shopping experiences, but not all eCommerce initiatives are created equal. Here are three eCommerce fundamentals to know to ensure your online stores are successful.
Design Matters
The adage "never judge a book by its cover" is not a concept that applies to the world of eCommerce. Design plays a significant role in the end-consumer purchase decision. In fact, research suggests that 38% of consumers will leave a website entirely if the layout isn't visually appealing, so it's critical to prioritize visual aesthetics.
To increase sales, customize the online store based on your customer's brand and goals. Ensuring storefront branding is consistent with the company or organization the online store is built for makes it immediately obvious that an end-consumer is in the right place and that the experience has been tailored to them.
It's also important to be selective about the colors, banners, and background images used throughout the online store. Opt for fonts that are easy to read and colors that aren't jarring to look at.
Use high-quality, high-resolution artwork on product mockups – even if it's a small image. Blurry, low-resolution logos and graphics make it difficult for consumers to imagine what the end product will look like. Plus, site visitors are likely to interpret the product preview image as the quality level they can expect on the final decorated good. Providing high-quality images provides end-consumers more confidence in their purchase.
Each online store is ultimately a reflection of you and your customer, so make sure you're putting your best foot forward.
Information is King
When it comes to providing end-consumers information, more is almost always better. A study by eConsultancy found that 56% of online consumers will abandon a purchase due to a lack of information about products, services, or delivery. Sparse information makes it difficult for end-consumers to make an informed decision. Even worse, a lack of information can signal potential risk causing them to walk away from the purchase altogether.
To avoid this, it's essential that an online store:
Offers detailed product information. Include photos that show multiple angles of a product, and list key details such as the manufacturer, style name or number, material, and dimensions for every product on the storefront.
Lists information about the company, whether it's your customer's company, your company, or both. Including basic information such as the business name, email address, phone number, and a link to the corporate website makes it easy for end-consumers to verify that the online store is legitimate and safe to purchase from.
Provides contact information that's easy to find in multiple places, including on the online store, order confirmation emails, and receipts or invoices. Consumers purchasing from the online store should be able to contact someone for help by phone or email.
Providing correct, complete, and up-to-date information makes it easy for consumers to say yes, increasing the likelihood of a purchase.
Product Discovery Should be Simple
Group products into logical categories with clear labels. Depending on the customer and their product selection, you can create separate categories for adult versus children sizes, or organize items by product type like outwear versus accessories. This seemingly small distinction helps reduce ordering errors such as an end-consumer accidentally purchasing a youth size t-shirt instead of an adult-sized shirt, or vice versa. It can also be helpful to provide a drop-down menu of the categories so site visitors can quickly navigate to the products they're looking for.

Lastly, leverage more advanced eCommerce features like product recommendations. Suggesting additional products during the checkout process helps end-consumers discover new items they may not have considered, and increases the average order value (AOV) and total sales for the online store – a win for everyone involved.
About OrderMyGear
OrderMyGear is an industry-leading sales tool, empowering dealers, distributors, decorators, and brands to create custom online pop-up stores to sell branded products and apparel. Since 2008, OMG has been on a mission to simplify the process of selling customized merchandise to groups and improve the ordering experience. With easy-to-use tools, comprehensive reporting, and unmatched support, the OMG platform powers online stores for over 3,000 clients generating more than $1 billion in online sales. Learn more at www.ordermygear.com.
Media Contact: Hayley Bell | hayley@ordermygear.com | 214-396-2110