You've just landed in a new city. As you wait on the curb, luggage in hand, your Uber arrives. The driver greets you by name with a warm smile and places your luggage in the trunk. As you slide into the back seat, the sleek leather seats catch your eye and the Hawaiian breeze air freshener fills the air.
With Uber, you were able to easily request a ride and track the status all in one app. Now picture yourself waiting on the curb as you juggle coffee, luggage and attempting to call a taxi. There's no status or update on the ETA, so you patiently wait as the taxi pulls up beside you 15 minutes later. The trunk pops open and you struggle to put your luggage in. You finally hop into the backseat, but the smoky smell and gum now stuck to your shoe have put a damper on your entire morning.
While both car services successfully got you to your final destination, the experience was far from the same. Just like getting a ride, online shoppers want to get to their desired destination – the checkout – with the least amount of friction possible. And they want to enjoy the ride, which starts with branding.
Branding can be the difference between a good store and a great store. OMG data suggests that stores with themes have a 12% higher average order value (AOV), 21% higher sales, and 8% more orders than stores without branding.
Here are five things to evaluate to ensure your online store branding delivers a positive experience for your customer and end consumers.
STORE PURPOSE
It's important that each online store is built with the customer and their end consumer in mind. Make sure you have a good understanding of the customer's needs and build your store from there. Whether it's for a sport's team, construction company, bachelorette party, or a community fundraiser, narrowing in on the specific group and their needs will make customizing it easier.
Pro Tip: Ask your customer for details about who will be shopping on the store. Is it company employees, student-athletes, or community members? Knowing who will be visiting and purchasing from the online store will help you customize the look and feel of the store.
THEME
A logo is often one of the first things that come to mind when people think about branding. It's one of the key ways to identify a company, organization, or team, but it's not the only piece to the puzzle. Branding incorporates a number of other elements including colors, images, and even the words an organization uses.
All of these components should be taken into consideration when selecting a theme for your OMG store. Be sure to analyze the colors your customer uses in their logo and the colors they use in other external marketing materials, such as their website. Next, determine whether the color(s) look better against a dark or light color theme.
Pro Tip: Find out if your customer has a branding style guide that outlines key components of their brand such as colors and imagery. You can also use online tools to determine the exact colors your customer uses, which will help determine whether to select a light or dark theme and ensure the branding of the online store is consistent with other channels.
BACKGROUND
One of the easiest and perhaps most understated ways to add depth and visual appeal to your online store is by selecting a great background image. The right background image will complement the theme of the online store, as well as your customer's branding and the products.
Unsplash and Pexels are great resources to find unique images to add to the visual aesthetic of your online store. Opt for images that are textured, neutral, and do not distract consumers from the products.
Pro Tip: A good rule of thumb is to select a textured image that can be repeated both horizontally and vertically. For example, geometric patterns or natural patterns such as brick, stone, wood, or grass tend to make good background images.
BANNER
Bring your online store to life by creating a custom banner image. The banner image is the first thing a consumer sees when they visit an online store and it's an immediate indication that they're in the right place. Like other components of an online store, the best banner images match the store theme and your customer's branding. For OMG stores, we recommend creating banners that are 1170 x 225 pixels.
In some cases, the same image can be used for both the banner image and background. However, it's important to keep the banner image and product images as the main focus of your store. When using the same image for the banner and background, try applying effects such as color overlays or image transparency. This will help prevent the images from competing with one another or drawing attention away from the products. Free graphic design tools like Canva can help achieve the look you're striving for.
Pro Tip: Use the banner to showcase your customer's slogan, a school or team chant, or to communicate additional information to consumers. Position text in an area of the image that is less crowded and use a contrasting color to ensure it's easy to read.
PRODUCT CATEGORIES
Ultimately, the most important part of any online store is the products available in it! Improve the performance of your online pop-up store by organizing your products. Whether you're selling electronics, apparel, or accessories, categorizing the products will increase traffic through the store, while creating a quick and easy shopping experience for consumers.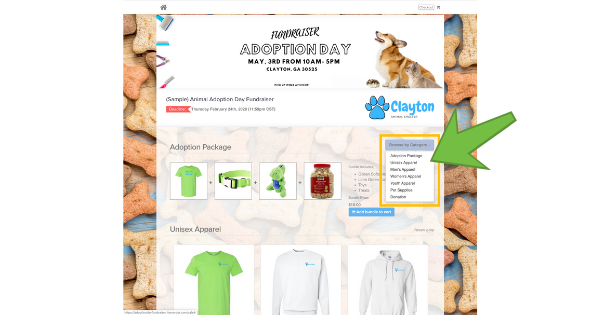 Group products together that share similar attributes by creating categories such as accessories, women's apparel, or spirit wear to grab the attention of consumers. Optimize the online store visit by guiding consumers through their experience and reap the benefits from it!
Pro Tip: Group apparel products by fit (e.g., men, women, and youth) to help consumers avoid purchasing the wrong size.
Whether it's the banner, background image or button color – ask yourself is the online store aligned with my customer's branding and mindful of the end consumer experience?
Done right, branding each of your online stores can turn passive visitors into happy consumers, which ultimately leads to happy customers for you!
About OrderMyGear
OrderMyGear is an industry-leading sales tool, empowering dealers, distributors, decorators, and brands to create custom online pop-up stores to sell branded products and apparel. Since 2008, OMG has been on a mission to simplify the process of selling customized merchandise to groups and improve the ordering experience. With easy-to-use tools, comprehensive reporting, and unmatched support, the OMG platform powers online stores for over 3,000 clients generating more than $1 billion in online sales. Learn more at www.ordermygear.com.
Media Contact: Hayley Bell | hayley@ordermygear.com | 214-396-2110