With the advent of the smartphone, information is easily and instantly accessible, even on the go. We have access to more information than ever before. With a wealth of information only a few clicks away, end consumers increasingly expect insight into their purchases along every step of the process, and they appreciate the ability to answer their own questions.
PROVIDE CONSUMERS VISIBILITY TO THEIR ORDERS WITH ORDER STATUS
End consumers appreciate self-service capabilities when it comes to getting information about their online orders. A recent study by UPS found 56% of consumers actively track orders once they've been placed online.
Providing information about online orders post-checkout offers consumers reassurance that the items they paid for are on the way. This goes a long way in reducing potential anxiety, boosting customer satisfaction, and improving their overall buying experience.
Our new Consumer Order Status feature allows you to provide end consumers visibility into the status of their entire order or specific items within an order. You can create custom descriptions that explain what each status means and enable Order Status visibility at the store level. With this feature, your Team can focus on selling and getting orders into the consumer's hands faster.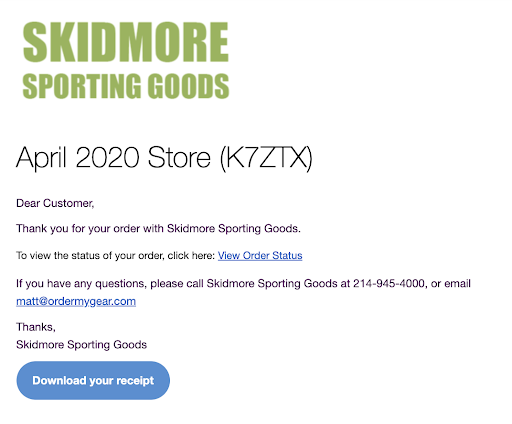 View Order Status via order confirmation emails
How It Works
Set Custom Statuses – Create custom status names and descriptions to explain to end consumers exactly what each status means.
Enable Order Status – Select the store(s) you want to enable the Order Status feature and decide if you want to display the status at the order or line-item level.
Get Back to Business – Redirect your focus to high-value tasks that generate sales.
Consumer Order Status boosts Team productivity by reducing the amount of time spent answering questions about the status of orders. This frees up time for you and your Team to focus on other tasks. It also helps to effectively manage consumer expectations by providing a self-service way to answer their own questions. Providing end consumers access to information about the status of orders reduces perceived risk creating a better buying experience.
MAXIMIZE SALES AND IMPACT WITH FUNDRAISING TRACKER
Online fundraising initiatives have seen a significant uptick in popularity in recent months as businesses search for new ways to generate sales.
This type of store is a great way for dealers, distributors, and decorators to generate sales while supporting their community. Online fundraising stores combine people's love of branded merchandise with an element of goodwill – end consumers can support a cause and in return get an item they'll use over and over that's symbolic of their purchase. Everybody wins!
Our latest enhancement to OMG's built in fundraising capabilities enables you to maximize sales and impact.
The Fundraising Tracker feature allows you to display a tracking meter on the storefront that shows end consumers how close the online store is to reaching a fundraising goal or to simply track how much money has been raised. The tracker can be enabled on a store-by-store basis, providing you a high-level of control.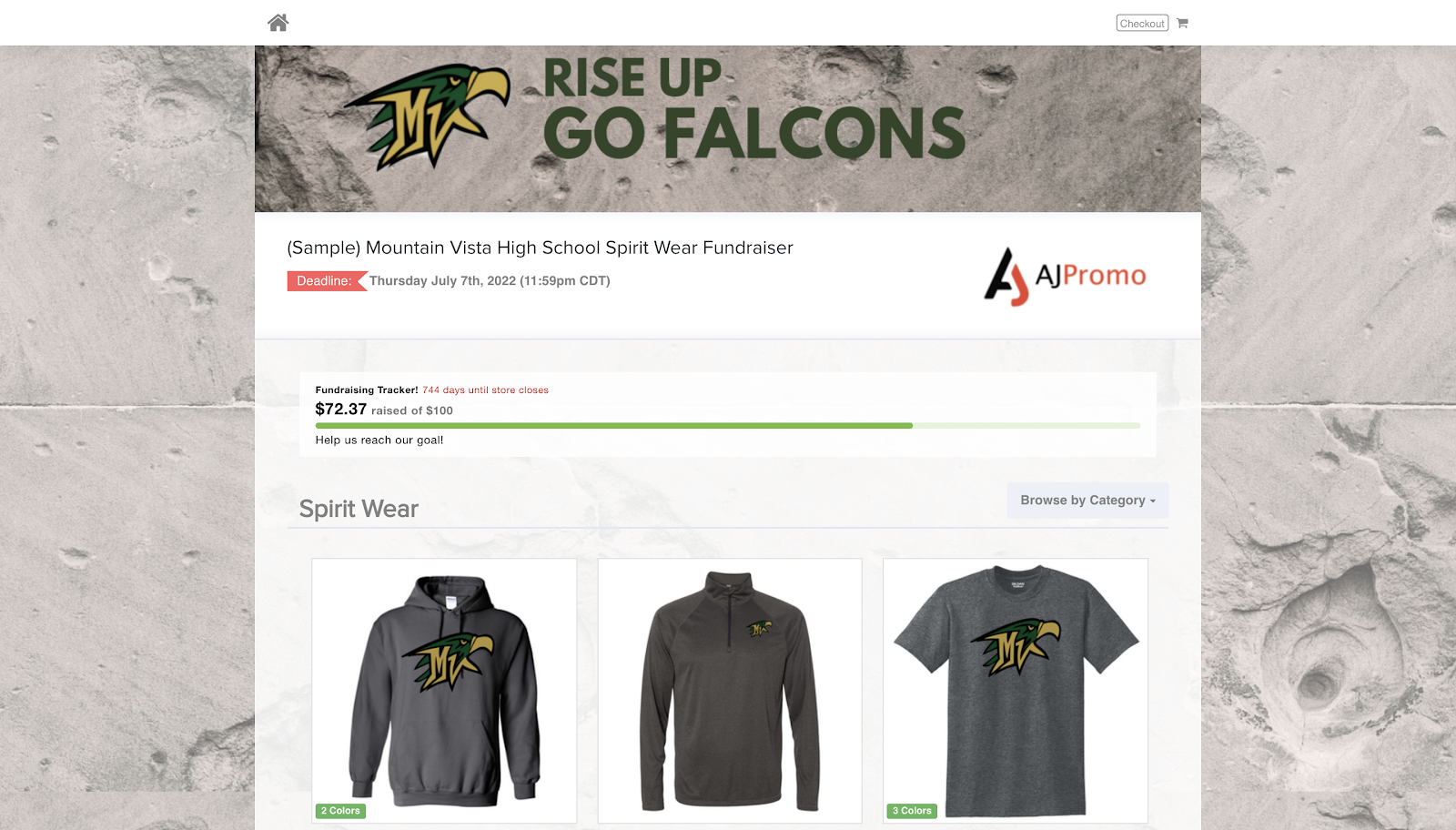 Display the Fundraising Tracker on Online Stores
How It Works
Activate the Tracker – Select the fundraising store(s) you want to enable the Fundraising Tracker feature.
Adjust Settings – Enter a name for your Fundraising Tracker, create a message, set goals, and enable a countdown timer.
Add Fundraising – Add fundraising to products on your store.
Start Collecting Sales – Encourage purchases to drive sales and maximize fundraising.
The Fundraising Tracker feature motivates consumers to order products from an online store by giving them a real-time visual indication of how their order contributes to the fundraising goal. It also inspires more in-the-moment purchases and provides powerful social proof that others are also contributing to the cause, creating a sense of community. Fundraising Tracker helps consumers feel good about their purchase and maximizes fundraising for your customer. In turn, you can position yourself as the go-to for high-impact fundraising stores and drive sales for your business.
Empowering consumers with self-serve information about their purchase builds trust and ultimately boosts sales. With the new OMG Order Status and Fundraising Tracker features, you can be confident you are providing the important and insightful information your consumer wants. Check out our new Order Status and Fundraising Tracker features today and reach out to our Team if you have any questions!
About OrderMyGear
OrderMyGear is an industry-leading sales tool, empowering dealers, distributors, decorators, and brands to create custom online pop-up stores to sell branded products and apparel. Since 2008, OMG has been on a mission to simplify the process of selling customized merchandise to groups and improve the ordering experience. With easy-to-use tools, comprehensive reporting, and unmatched support, the OMG platform powers online stores for over 3,000 clients generating more than $1 billion in online sales. Learn more at www.ordermygear.com.
Media Contact: Hayley Bell | hayley@ordermygear.com | 214-396-2110