You're needing some items from the store. List in hand, you get in your car, head to the local grocery store, and walk in determined to stick to your list — nothing more, nothing less.
As you peruse products nicely displayed on the shelves, your mind starts to question if you actually need more than what is written on your paper. Do you pick up a sweet treat? Nah, you don't need the calories. Oh! That cute sweater is on sale? Hmmm, maybe…ugh, none in your size. Ok. Done.
You've gotten all your items and stand in line to check out. As you wait, you see that particular treat you had your eye on earlier. The cashier rings you up and you're surprised that the total is less than what you expected! You immediately reach over and grab the treat you've been craving.
Total increased, you pay and walk out of the store satisfied.
That's how the Recommended Products feature works on OMG!
Feature Overview
Recommended Products is a subsection of the customer cart that highlights products offered within the online store.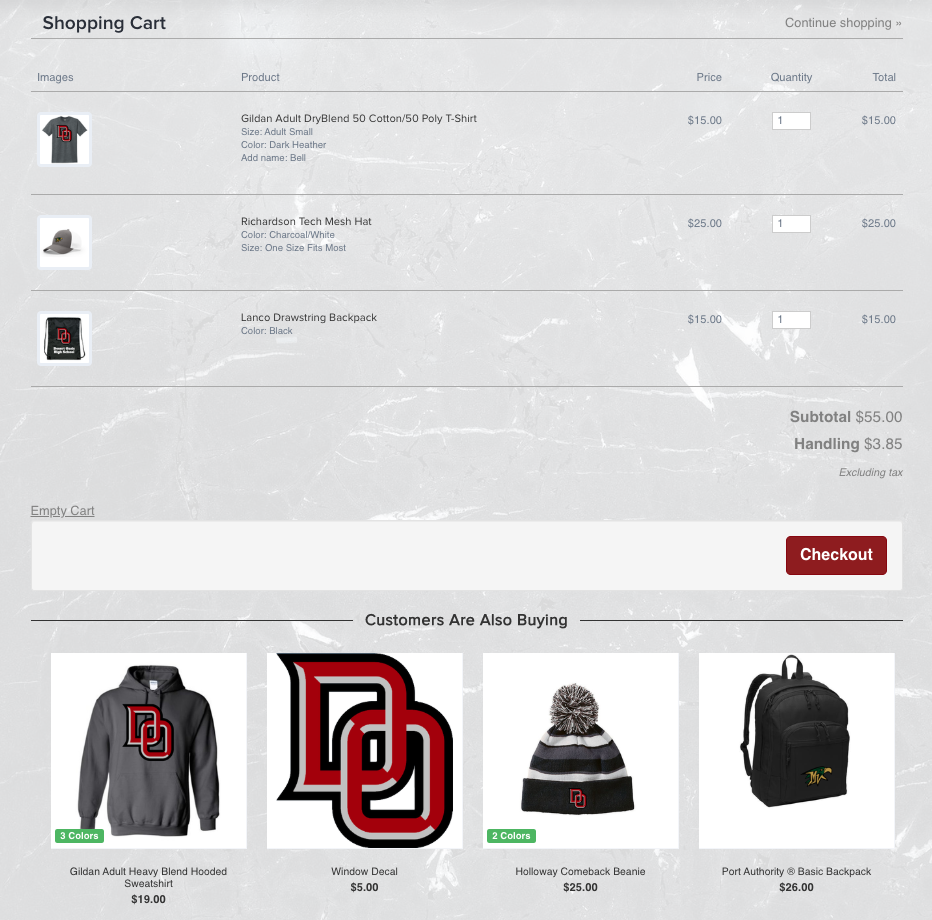 This popular feature uses an algorithm to display products that other individuals are purchasing from the online store. The end-consumer loves it because they can see which items are most popular and it allows them to take a second look at trending products they might not have considered previously. Our clients love it because it provides a modern and personalized experience for end-consumers while increasing sales.
Market Research
While researching new ways to improve the OMG platform, we found that recommending products at checkout is an incredible way to boost sales, and is a best practice in eCommerce to improve the online experience for consumers. In fact, a survey conducted by Slickdeals found that consumers spend $5,400 annually on impulse buys. Similarly, a creditcards.com survey suggests that "excitement is a major factor when it comes to sudden purchases," with "around half of all impulsive shoppers [being in] an excited state of mind."
We've seen this to be something that allows consumers to get the products they want and love, in addition to being a powerful sales driver for our clients. Since launching the Recommended Products feature in December 2018, recommended products alone have produced over $3M in volume on the OMG platform. That's over 100,000 purchased units and absolutely 0 seconds of work for our clients.
Next Steps
So what steps do you need to take to benefit from this feature?
None!
OMG does the legwork for you, automatically displaying recommended products as a consumer heads to checkout in order to boost sales and increase consumer satisfaction. The products that are highlighted are automatically selected as the highest-performing products on your store, which helps you benefit from the tribal mindset consumers are in when they purchase from their online store.
For more information about this capability, visit our Help Center or reach out to the OMG Team!
About OrderMyGear
OrderMyGear is an industry-leading sales tool, empowering dealers, distributors, decorators, and brands to create custom online pop-up stores to sell branded products and apparel. Since 2008, OMG has been on a mission to simplify the process of selling customized merchandise to groups and improve the ordering experience. With easy-to-use tools, comprehensive reporting, and unmatched support, the OMG platform powers online stores for over 3,000 clients generating more than $1 billion in online sales. Learn more at www.ordermygear.com.
Media Contact: Hayley Bell | hayley@ordermygear.com | 214-396-2110