In a time of need, OMG clients have stepped up to support small businesses and organizations impacted by the COVID-19 pandemic, raising more than $125,000 for communities across the country. What started as one businesses' idea to give back, the Community Tee Project is now making an impact nationwide.
Where It All Began
Joe Tolman, owner of the screen printing business Bulldog Design in New Hampshire, was forced to furlough his staff after business slowed from the COVID-19 pandemic. Searching for a way to keep employees working and support other local businesses, Joe started talking with industry partners and learned they were printing shirts to raise funds for local businesses. He adopted the idea, calling it the Great Grey Tee Project.
Joe kept things simple and printed logos of businesses he wanted to support on each shirt, as well as the Great Tee Project logo he designed for the cause. Within 24 hours of launching the first Great Tee Project online store, Joe received 900 orders and was able to bring all his employees back to work. Word quickly spread across social media and a local paper picked up the story. Soon, requests for similar projects started pouring in from other businesses locally and across state lines.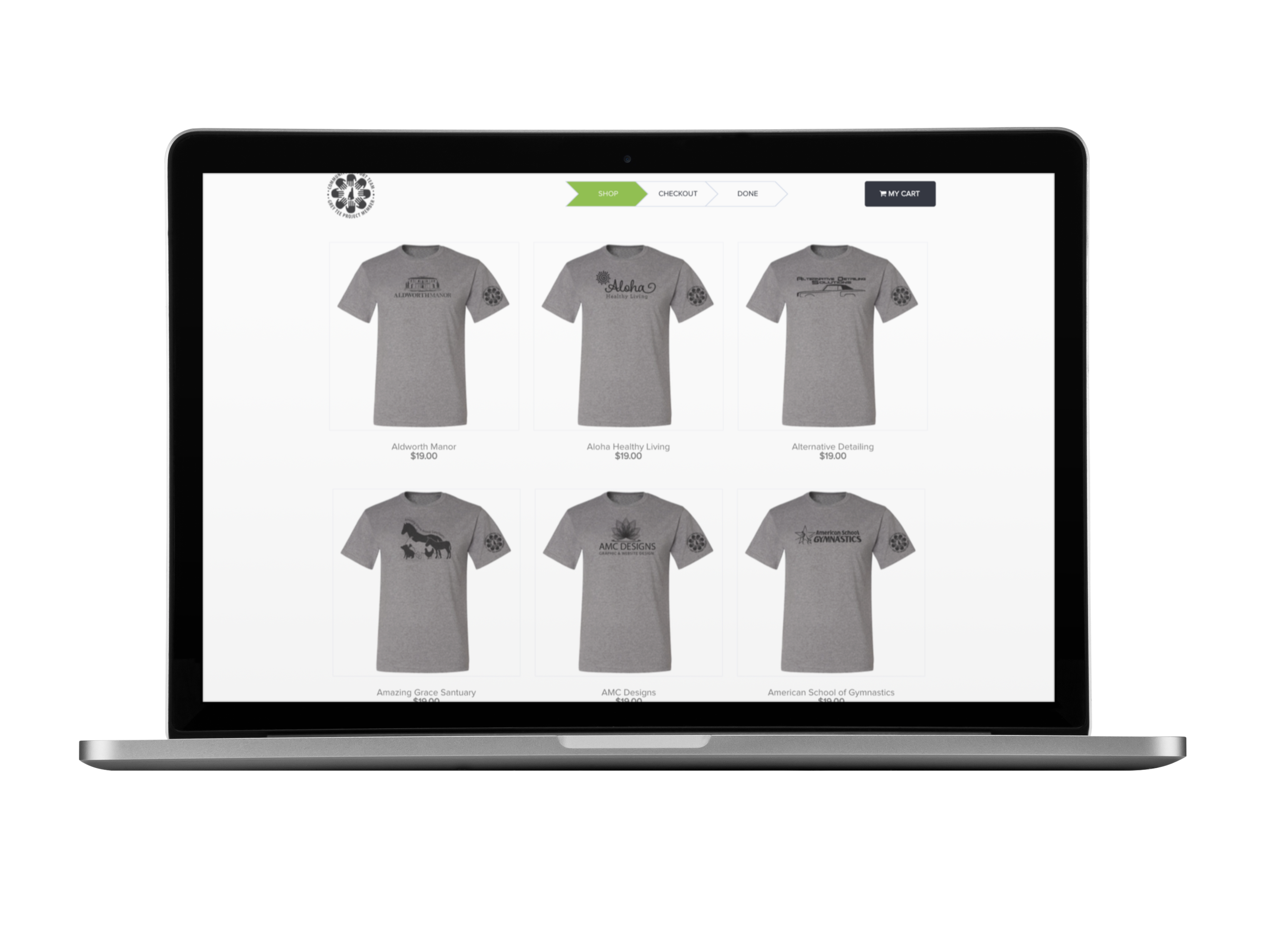 In just 2 weeks, Joe has raised over $60,000 for local businesses, and the Great Grey Tee Project continued to grow.
The Community Tee Project
Bulldog Design was seeing great success at a time when others in the industry saw business come to a screeching halt. This caught the eye of OMG'er Britney Mueller who began looking into the store and following Joe's updates about the campaign on social media.
"This project was uniting a small town that was afraid their businesses wouldn't make it during COVID-19," recalls Britney. "When I saw that a town of 20,000 residents had raised over $30,000 for local businesses in less than a week, I knew they were on to something."
Their project offered a simple, yet highly effective way to impact businesses across the country. It created a way for companies like Bulldog Design to keep their doors open and employees working, as well as a fundraising channel to provide a much-needed lifeline to those hit hardest by the pandemic. Plus, it created a shared sense of hope across entire communities.
OMG backed what became known as the Community Tee Project, providing communication resources, free store building, and project-related logo designs to clients. To participate, dealers, distributors, and decorators:
Contact local businesses, restaurants, schools, and organizations to identify those in need of financial support. Their logo would be placed on a shirt and proceeds from the sale of that shirt would be donated back to them.

Select a simple, unisex shirt that is likely to be in stock, as well as a single-color logo to simplify fulfillment.

Create an online pop-up store for the fundraiser, adding messaging on the storefront to communicate the purpose and goal.

Businesses and organizations participating in the project are encouraged to share their store on social media to drive sales and maximize fundraising.
Dealers, distributors, and decorators across 47 states joined in the Community Tee Project and have raised more than $125,000 for local businesses to date. Their quick efforts to lend a hand have even yielded surprising benefits including earning new business accounts, increasing social media engagement, and building trust with the communities they serve.
Here are a few highlights of how OMG clients used the Community Tee Project to make a difference.
Rock Hill Screen Printing – South Carolina
One of the first businesses involved in Rock Hill Screen Printing's SC Grey Tee Project was a local kung-fu studio. The studio instructor had been forced to close and was struggling to make ends meet. Once Rock Hill's online store opened, the studio instructor shared the store on his Facebook page, and within the first three hours, 28 shirts had been purchased to support them. By the end of the campaign, Rock Hill was able to donate $750 to the studio which helped them make rent for the month.
Jeremy Ray, owner of Rock Hill Screen Printing, mentioned that their key to success was clear and concise communication with businesses involved in the project. They emphasized sharing the store on social media to increase sales, and therefore, the donations to the business. Participating businesses that promoted their involvement with the project on social media received significantly more contributions than those who did not.
"Smaller communities band together and help those businesses that they are loyal to," Jeremy commented. "Not everyone can pay someone's rent to help them stay open. However, most of those same people will not hesitate to buy a t-shirt from those businesses to show their loyalty and help support them."
Stan's Sports Center – New Jersey
"The city of Hoboken is resilient and really has a knack for stepping up when times get tough. It was an easy pitch to make," comments Alexis DeCongelio, Director of Sales & Online Stores. Salons, restaurants, daycares, funeral homes, bars, theaters, pet stores, and more from across the community participated in Stan's Sports Center's Community Tee Project.
"OMG was a tremendous asset for us to help increase the scope of our project. On the surface, they supplied us with our platform, but behind the scenes, we benefited from marketing tools, branding, and other services. It's the best outcome we could have hoped for in a less-than-ideal situation."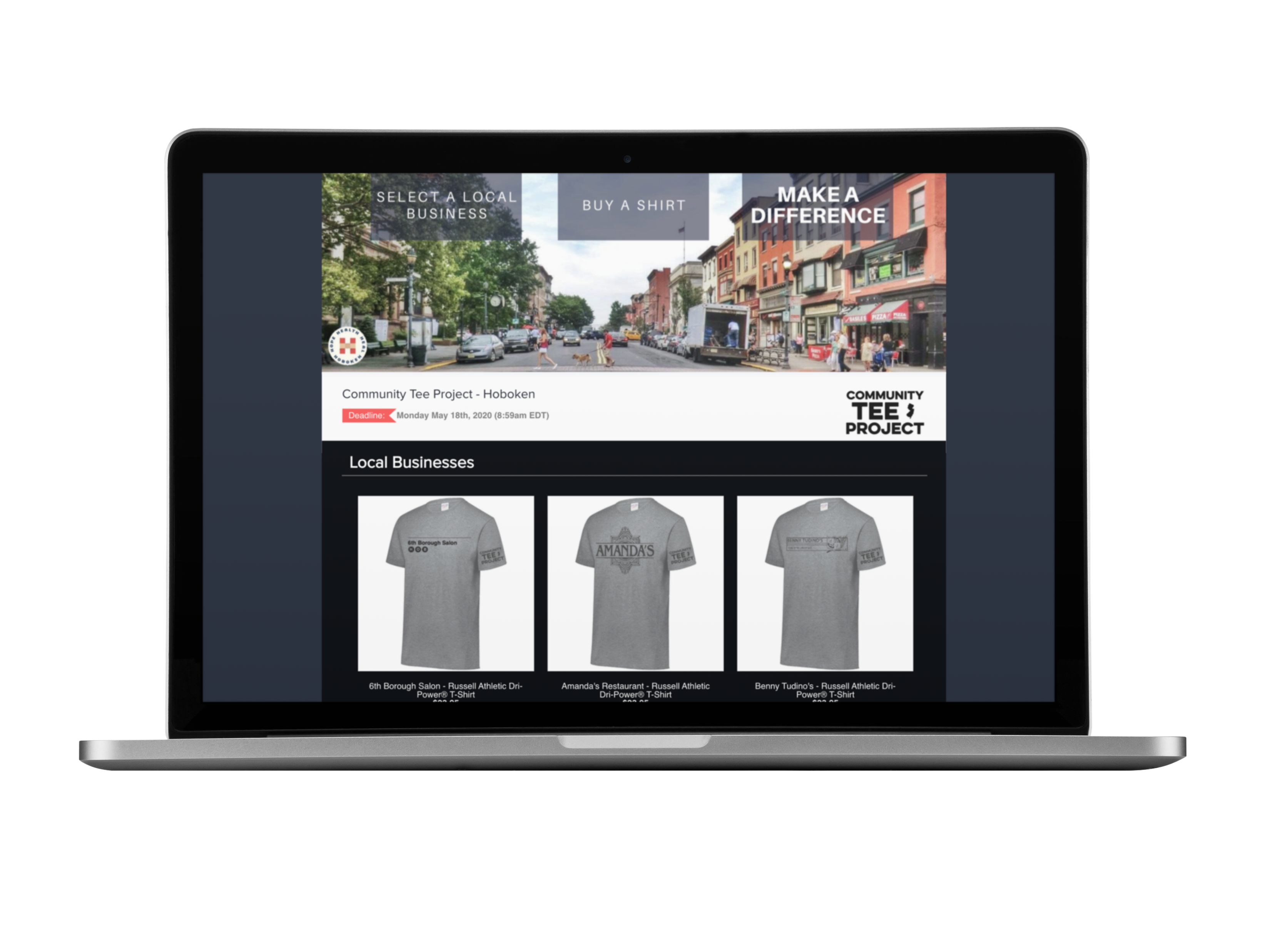 Ravi Bhalla, the Mayor of Hoboken, highlighted Stan's Sports Center's Project in a daily briefing, which helped their sales take off. "I wanted to start by commending the staff at Stan's Sports Center, a longtime Hoboken business, for initiating the Community Tee Project to create t-shirts with the brands of other local Hoboken businesses. Stan's Sports Center is selling these custom-made shirts to the public, with $10 from each shirt going directly to the business or non-profit with the shirt's logo, to help support that business' staff. This is another innovative way our community is giving back to others during this time of need."
And this is just the beginning! Read Part 2 and Part 3 of this series to see how other dealers and distributors are supporting small businesses in their communities with the Community Tee Project.
About OrderMyGear
OrderMyGear is an industry-leading sales tool, empowering dealers, distributors, decorators, and brands to create custom online pop-up stores to sell branded products and apparel. Since 2008, OMG has been on a mission to simplify the process of selling customized merchandise to groups and improve the ordering experience. With easy-to-use tools, comprehensive reporting, and unmatched support, the OMG platform powers online stores for over 3,000 clients generating more than $1 billion in online sales. Learn more at www.ordermygear.com.
Media Contact: Hayley Bell | hayley@ordermygear.com | 214-396-2110