Businesses and communities across the country have experienced hardships this year. They've also come together to support one another in a time of need.
After witnessing the positive impact of one client's idea to use their screen printing business to support their local community, OMG backed what became known as the Community Tee Project, a fundraising initiative designed to empower dealers, distributors, and decorators to run online fundraising stores to support local businesses in their communities.
The national project made a significant impact beyond raising more than $125,000 for local businesses. It brought financial support for businesses uncertain about making rent or having enough to cover their monthly utility bills. It allowed employees to keep their jobs and receive financial relief during a rough time. It fostered connections between community members desperately searching for a way to lend a hand. It opened up new opportunities for decorators, distributors, and dealers to connect with new businesses and organizations in their community. And most of all, it brought hope.
Similar to those highlighted in Part 1 and Part 2 of the Community Tee Project story, dealers, distributors, and decorators stepped up to support those around them. Here are a few more highlights of how OMG clients across the country made a difference in a time of need.
American T's – Oklahoma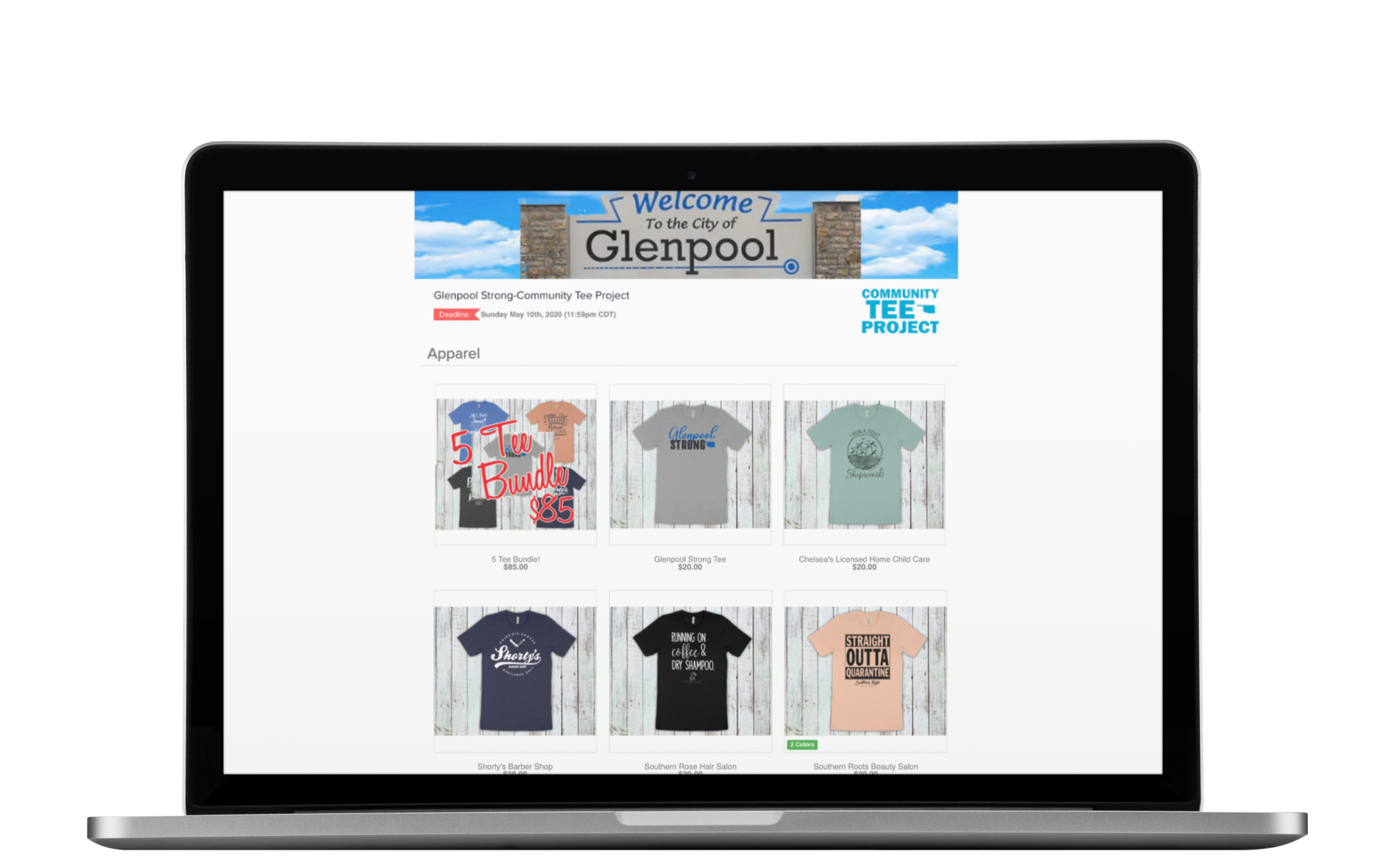 A surprising thing happened when American T's implemented their Community Tee Project. The businesses they approached about participating didn't understand the concept – it seemed too easy. It was difficult to believe just how simple yet powerful the initiative was, but once they understood it, they were excited to participate.
Social media turned out to be the most effective way for American T's to promote their business and spread word about the project. They invited customers to post about their shirts on social media using #GlenpoolStrong and #SmallTownStrong to make it easy to interact with their customers.
American T's raised money for local businesses, some of which (like a local dealership) even donated those funds to other businesses or nonprofits. Providing support to their community in a time of need was an incredible opportunity, but Crystal McCauley, Director of Sales and Marketing, learned a new way to approach their business strategy.
"Before COVID, we always sat back and let clients come to us," Crystal commented. "When you have a disaster come and no one's ordering, you have to pivot. Implementing the Community Tee Project made me feel more comfortable reaching out to people that I might not have reached out to otherwise. Once we got the orders, actually handling the people who ordered, and then turning that around was another way we decided to think outside the box. There are now several hundred new people that have purchased from us that had never purchased from us before."
Image Packaging – New York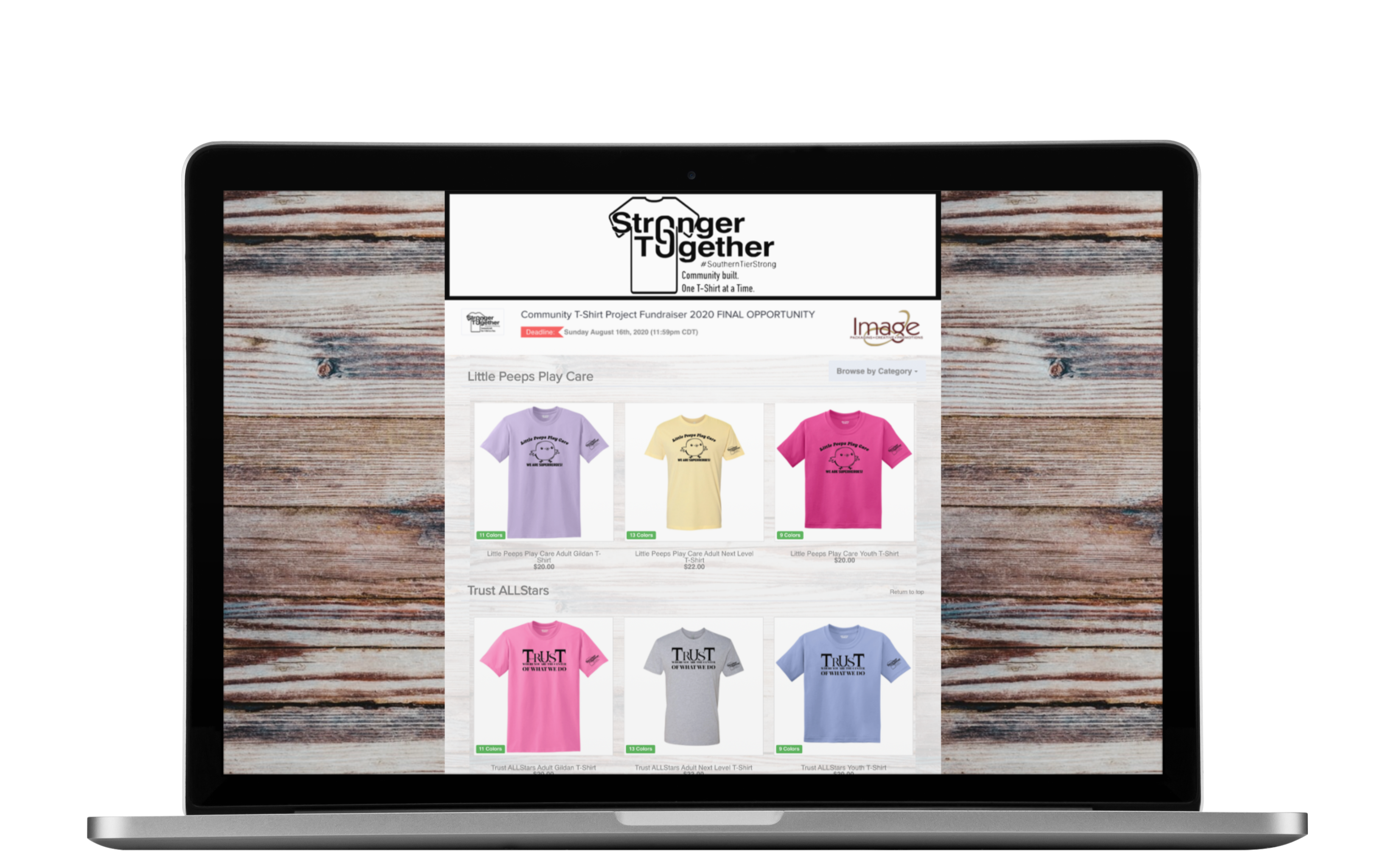 When Image Packaging started their Stronger Together Community Tee Project, they witnessed firsthand how businesses across the community can rally around each other. Some desperately needed the financial support the Project provided because of the impacts of the pandemic. Others continued to thrive, and upon seeing the situation of those not so fortunate, generously donated the funds they raised with the Community Tee Project to other businesses and nonprofit organizations.
Image Packaging also discovered the power of Facebook Live.
"The power of Facebook Live is intense!" commented Cathy Hendrickson, General Manager of Image Packaging. "We have seen an extreme increase in our page views and likes, and many local businesses were able to discover us that way. We have become the talk of the town!" They even created Facebook contests to encourage community members to "vote" for their favorite businesses by purchasing shirts to support them.
As Image Packaging continues to connect with businesses to support, Cathy and her Team are able to build positive relationships with new accounts. Despite being part of the community for more than 28 years, Image Packaging was able to connect with people who didn't know about their business or services.
Today, Cathy gives advice to businesses looking to host a similar project in their community. "It's important to be focused on this project. It is time-consuming if done right, but the reward is great."
Cheers Sports – Virginia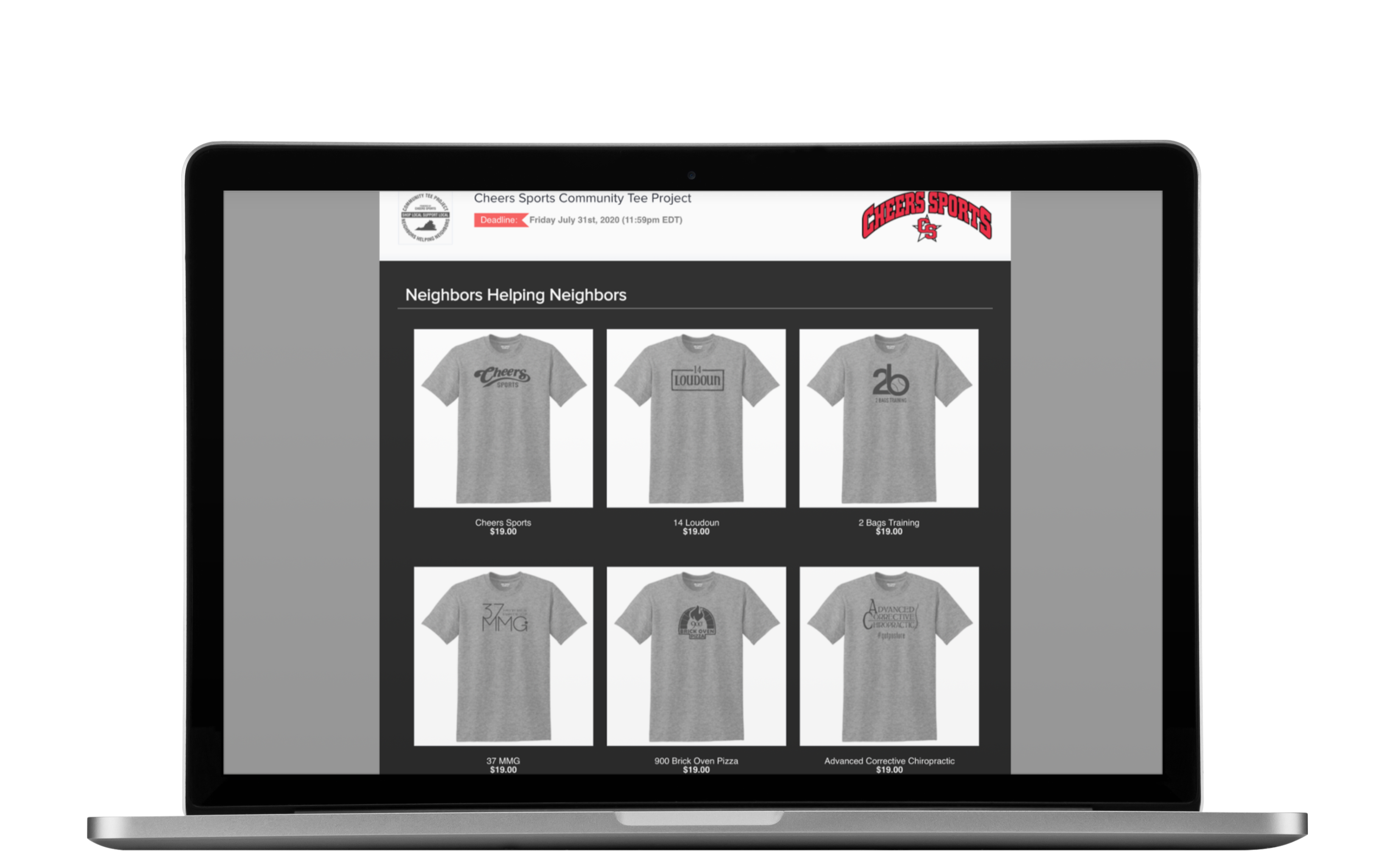 The most impactful part of the Community Tee Project for Cheers Sports community was that it proved there was still good in the world. Neighbors were willing to help neighbors, even in a time when things seemed grim.
One employee at Cheers Sports was so moved by the opportunity to drive a positive impact that she cold called countless local businesses to invite them to participate. Many of them started recommending other local businesses who might need a lift as well. They were excited about what was happening and wanted to pass it on. This employee even reached out to a local fire department that once saved her life to get them involved.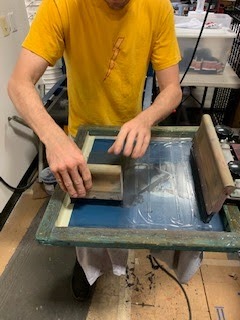 As stores began to launch, the Cheers Sports Team saw the community rally around those who needed support. The wife of a local business owner spent over $1,000 herself buying up shirts on a store to help out.
The biggest key to Cheers Sports success was to keep the offering simple and not overcomplicate the process. They encouraged the local businesses to circulate their participation on social media so word could spread. The project quickly spread across the community, bringing a sense of hope when it was needed most.
While the Community Tee Project has slowed, its impact continues to make a difference in the lives of community members across the nation. We look forward to seeing how our creative and resourceful clients use their solutions for good on future fundraising initiatives.
Want to learn more about this project? See other ways OMG clients have used online pop-up stores to make a difference in their own backyard:
For additional resources and support in running your own fundraiser, check out the OMG Marketing Tool Kit or OMG Case Studies & Insights pages.
About OrderMyGear
OrderMyGear is an industry-leading sales tool, empowering dealers, distributors, decorators, and brands to create custom online pop-up stores to sell branded products and apparel. Since 2008, OMG has been on a mission to simplify the process of selling customized merchandise to groups and improve the ordering experience. With easy-to-use tools, comprehensive reporting, and unmatched support, the OMG platform powers online stores for over 3,000 clients generating more than $1 billion in online sales. Learn more at www.ordermygear.com.
Media Contact: Hayley Bell | hayley@ordermygear.com | 214-396-2110