Ryan Crabtree works as a full-time firefighter and is the owner of US Safety Products, providing safety equipment to America's First Responders. As COVID-19 broke out, it was second nature for Ryan to donate personal protective equipment (PPE) to first responders in the area, but he felt he could do more to support essential workers at such a critical moment.
A Family Affair
Around the dinner table with his family, the Crabtrees decided to start a yard sign campaign called the "Thank You First Responders" Program. They would sell yard signs, decals, and banners to show community support, then donate funds to partners and first responders. The Team finalized designs, created an OMG online store, and Ryan kicked off the campaign with a Facebook Live video on the US Safety Products Facebook page to spread the news.
"We are relying on technology now more than ever, and good people to help make this work," Ryan commented. He used an OMG online store created specifically for the campaign to streamline the ordering process. Putting the signs in an online store allowed him to reach and do business with individuals across the community in a social-distancing-approved way.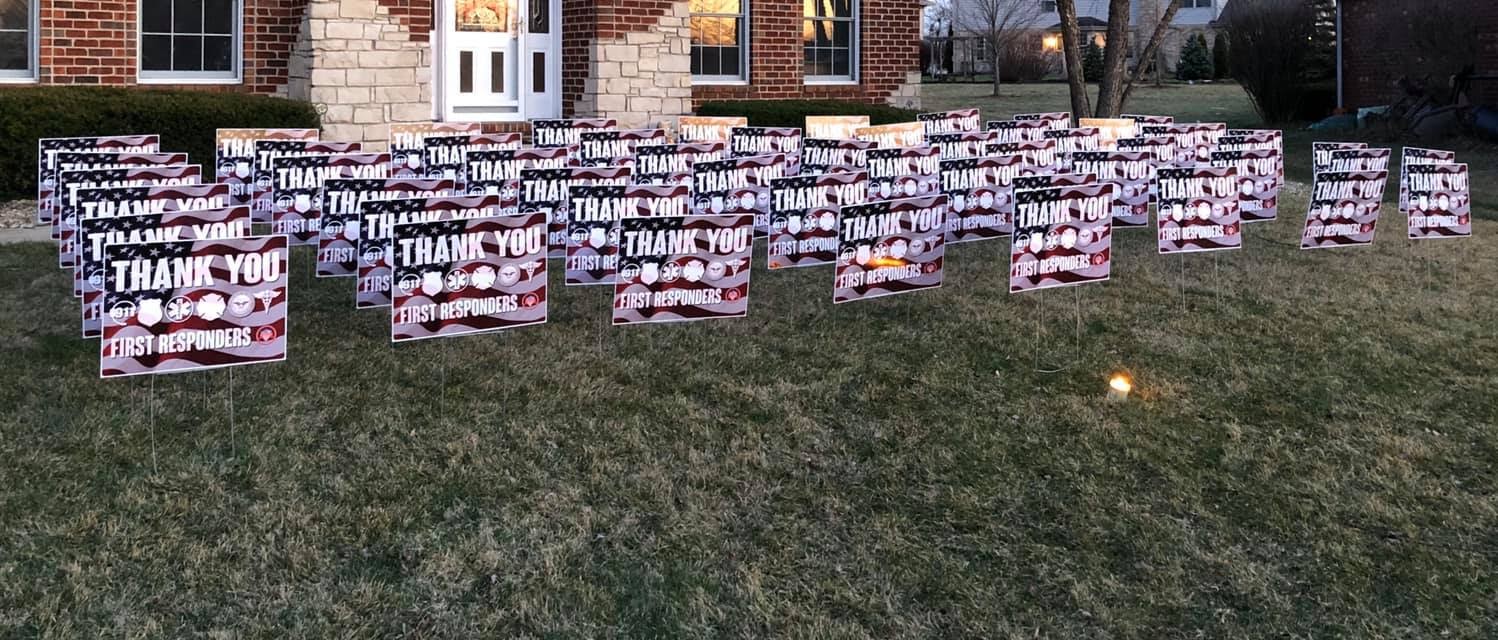 With schools moving to online learning, the Crabtree kids became involved in moving the campaign forward, providing vital work to meet the order demand. Kyle (age 13) assists in the printing and strategizes ways to set up the shop to maximize their ability to print signs. Kayla (age 16) mounts the signs and is responsible for organizing delivery routes and texting customers about their drop-off. Keegan (age 9) stakes the signs and manages the GPS during drop-offs. Lori, Ryan's wife, drives the drop-off route and keeps everyone in line. Their Team effort has quickly become a memorable learning experience, bringing the entire family closer together.
Within just a day of launching their online store, Ryan and his family started to see the impact of their campaign one community member at a time.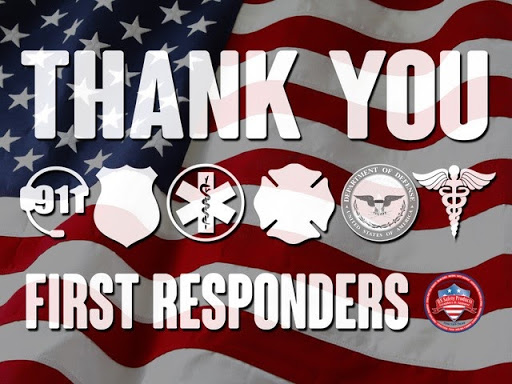 Supporting First Responders
Ryan's main goal with the campaign was to raise funds to support first responders during the COVID-19 crisis. In addition to donating PPE, Ryan designed the campaign to raise money for donations to different community partners in an effort to support them in their work. The first recipient was a connection Ryan had with Halgren Creations, who was making Ear Savers to donate to first responders. The second recipient was a group of local seamstresses who were sewing masks to donate to first responders in the area. The third recipient was Thornton Distillery and The Well, who were making hand sanitizer to donate.
Building Community
The COVID-19 outbreak put pressure on a variety of people, including essential workers and those asked to self-quarantine. Ryan's signs gave the community an easy way to display solidarity and show their support for first responders. Because of the high demand, Ryan quickly added new variations thanking teachers and celebrating birthdays, graduations, and anniversaries. The signs brightened people's day, but it also gave them hope and a feeling of camaraderie.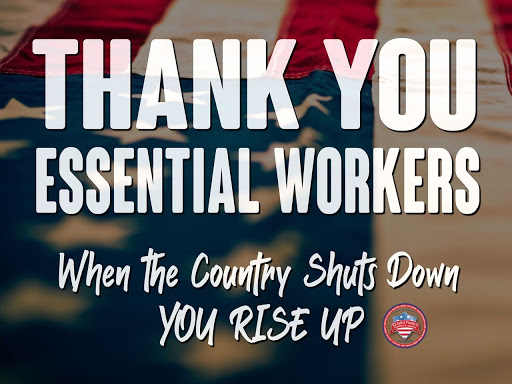 "The really touching thing about this program is how individualized it is," Ryan commented. "No matter what we do, we still need to deliver one sign at a time." As the Team would approach the next sign drop-off location, Kayla would text the customer thanking them for their business and letting them know their sign is being dropped off. "When the kids deliver the signs, we'll send that thank you text message and people will come out and say hi and want to talk – with social distancing of course – or they'll wave and give a thumbs up."
Building a Network
When the sign campaign first started, the goal was to hand-deliver items for free within 15 miles. After just a couple of days, that expanded to 60 miles because volunteers in the community joined the cause and lent support with distribution. Signs continued to pop up across the community, word spread, and social media shares took off, lending increased traction to the campaign. For example, LED and Safety volunteered to use their store as a pick-up location for signs orders.
Ryan was able to connect with area contacts and community leaders who lend legitimacy and credibility to their fundraising efforts, allowing the campaign to spread even further. "The more sales we have, the more donations we can make, so we want to get the word out," Ryan commented.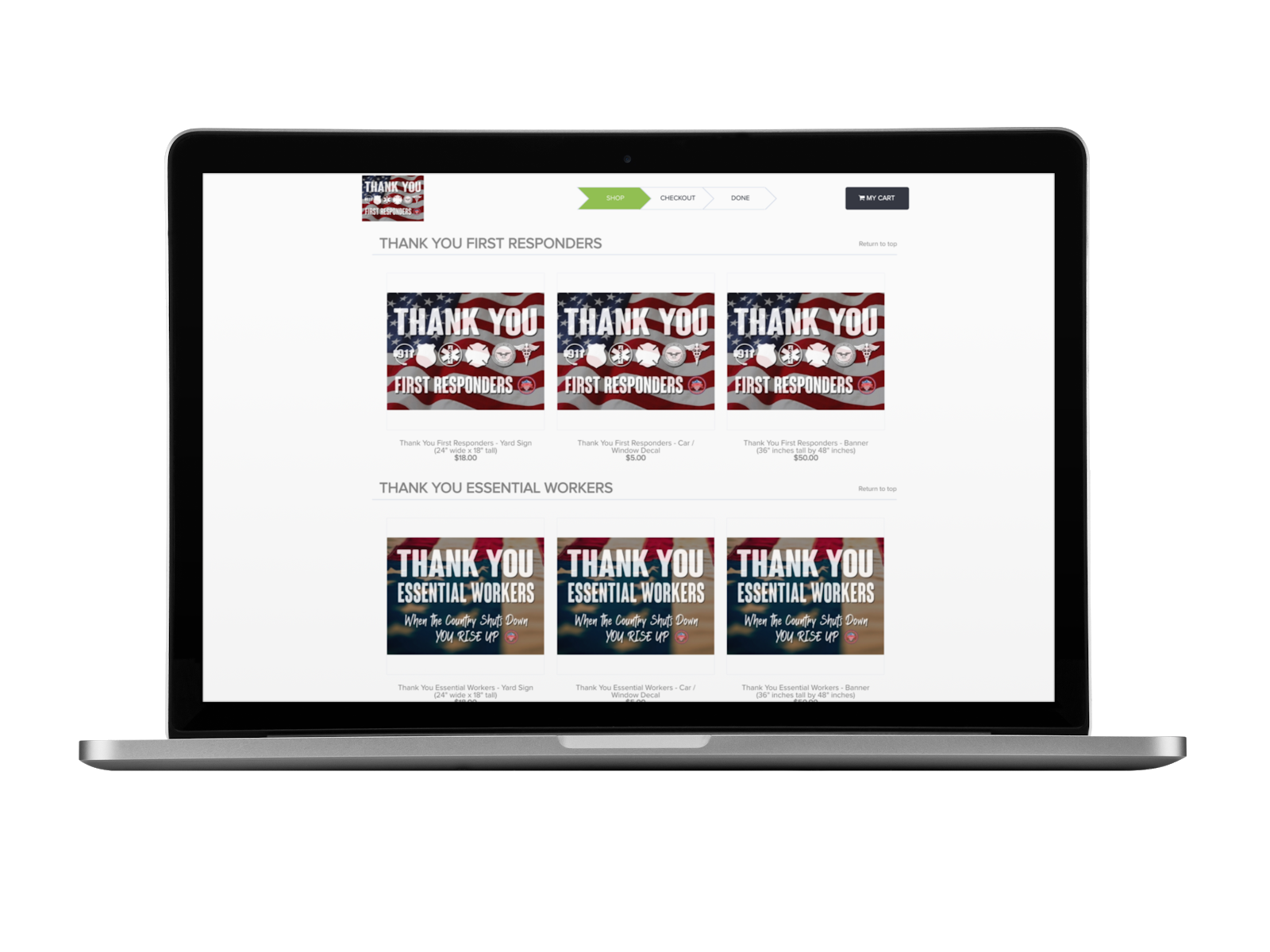 US Safety Products Team
"We're a small company, and we're just trying to make one small difference at a time with everything that we're doing," Ryan states. The six US Safety Products employees have been able to remain on staff, but Ryan has them doing projects at home instead of in the office. They have been making signs, taking inventory, and hand-delivering signs, among other projects. "Being a firefighter, bringing a disease home to my family would be devastating," Ryan comments. "I didn't want to do that to the people in our office."
The Crabtree Family
Each member of the Crabtree family plays an essential role in the success of the sign campaign, so it has quickly become a family affair. Pictures are the best way they've found to document the experience, and they've created many positive memories working together. Ryan is incredibly grateful for the support of his family at this time, saying "if it wasn't for my family, we couldn't do it. They are working 10 hours a day and they have it down, I trust their work."
Just the Beginning
Ryan recognizes that they are just brushing the surface of the impact they can have. "I feel that the project is still in its infancy stages, and the goal is that every police department, fire department and hospital in Illinois gets a sign," he states.
"What I'd like to do is bring that sign of hope and share it, not only over the state of Illinois but across the country."
Ryan would love to share his art files with businesses or vendors that would like to implement his sign campaign in their own community. If interested, please contact him at sales@ussafetyproducts.com or 708-747-7639.
About OrderMyGear
OrderMyGear is an industry-leading sales tool, empowering dealers, distributors, decorators, and brands to create custom online pop-up stores to sell branded products and apparel. Since 2008, OMG has been on a mission to simplify the process of selling customized merchandise to groups and improve the ordering experience. With easy-to-use tools, comprehensive reporting, and unmatched support, the OMG platform powers online stores for over 3,000 clients generating more than $1 billion in online sales. Learn more at www.ordermygear.com.
Media Contact: Hayley Bell | hayley@ordermygear.com | 214-396-2110