"My dad owns a pizza place. They can't keep full staff with curbside delivery. Still, they didn't want to have to lay a single person off, especially because many employees have worked for them for almost 15 years. [The STL STRONG campaign] is a way for restaurants to keep employees paid and on staff."
STL STRONG
Like many distributors and decorators, April 2020 looks vastly different from previous years for Dan Eagan, Sales Account Rep of St. Louis Sportswear. His day-to-day business has changed dramatically to adapt to the extenuating circumstances brought on by COVID-19. Sitting with his dad, the two began brainstorming ways to move the business forward when they decided to support local restaurants, pubs, and bars.
"Restaurants seemed like the most natural partner in a time like this," Dan commented. "They are in the same boat as we are, looking for ways to keep the doors open and employees staffed. They are also focusing on social media right now as a way to keep curbside orders up, and keep customers notified of their services. It's not too much for them to do additional posts about an online pop-up store fundraiser to keep them afloat at the same time."
They developed STL STRONG, an online pop-up store campaign hosted by St. Louis Sportswear to support local restaurants and ultimately extended the campaign to other area businesses. Dan and Team create an online store for each business and stock it with items sporting the STL STRONG logo. A portion of the proceeds from each store goes directly back to the business, creating an extra incentive for them to share the store with customers and help spread the word.
The campaign has quickly taken flight, and just last week, Dan was able to give a $1,500 donation check to one of the participating restaurants. With over 25 online stores opened for local businesses and restaurants, Dan and his Team have facilitated the fundraising of thousands of dollars.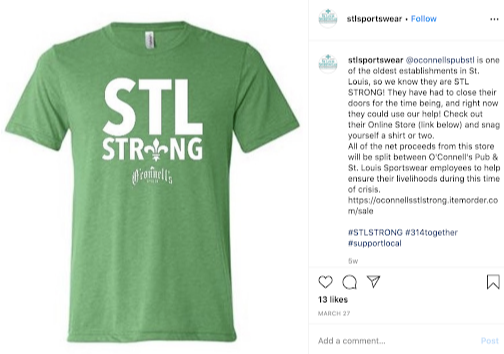 A Different Kind of Busy
Spring is usually one of the busiest times of the year for St. Louis Sportswear. School orders are coming in, event planning and execution is in full swing, and restaurants are ordering new merch to sell on-site. Spring 2020 has redefined what a "busy" season looks like and has the Team doing work differently than they've ever done before. Simplifying their processes is key to working efficiently and avoiding potential headaches from fulfilling orders.
"OMG Store Building Services saves me an abundance of time in getting customer orders out the door. It also helps to streamline my store set-up conversations with customers because it's all laid out and organized for me," Dan remarked. "I tell my customers, 'pick your item, pick your color, send me your logo, and we'll handle the rest.'"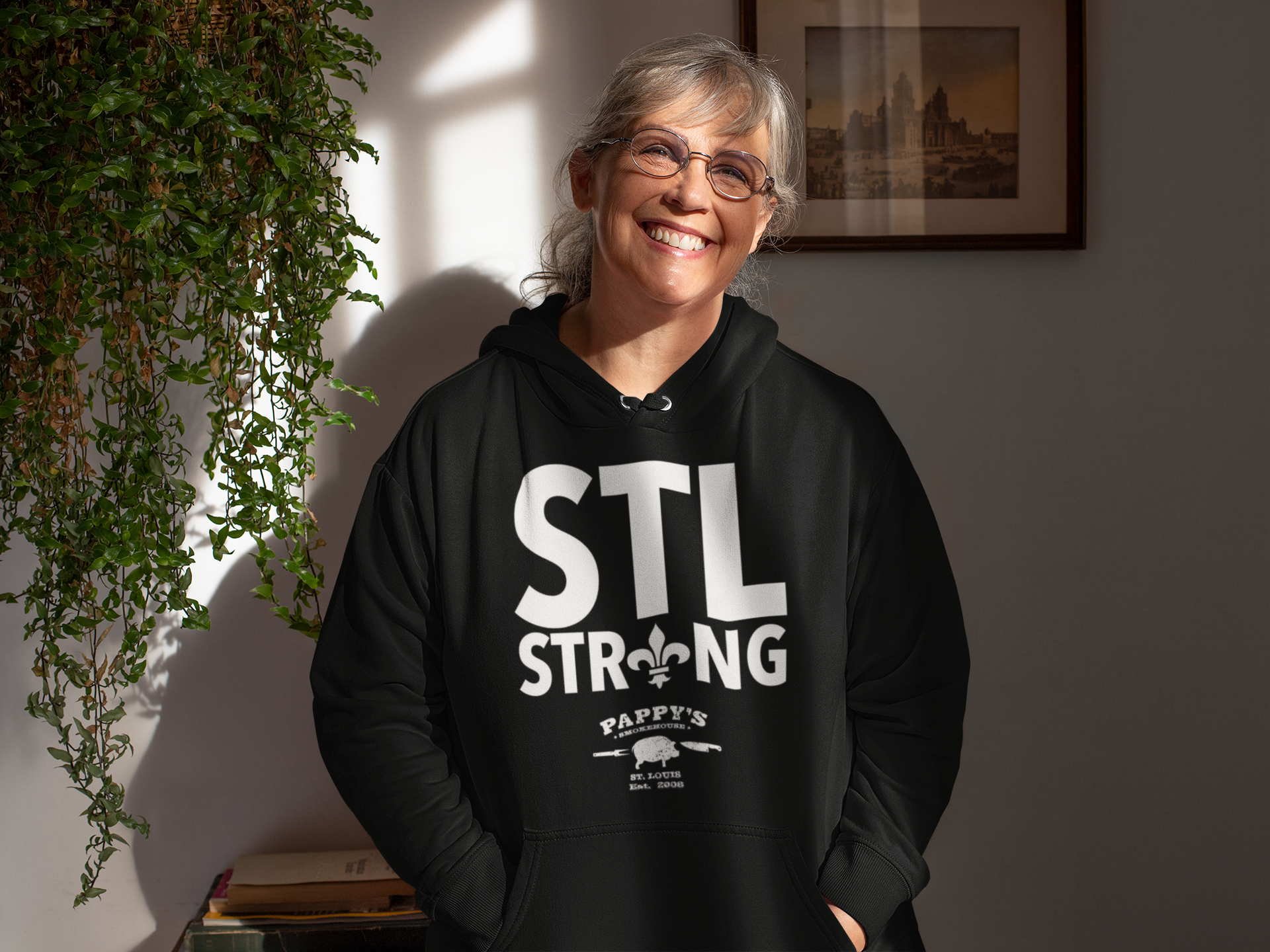 Teaching Customers to Succeed
So far, the STL STRONG campaign has been offered to over 25 local businesses, and Dan started to notice a pattern emerge for stores that were gaining notable traction.
Social media sharing has been one of the most significant indicators of success for Dan's customers, which he noticed when comparing two restaurants he was working with. One restaurant has a massive social media following of people across the country and only posted about their STL STRONG online store twice in the 2 weeks it was open. The second restaurant has a smaller, more local following on social media and posted about their online store 1-2 times every day.
Despite having a smaller social media footprint, the second restaurant raised significantly more money because of how often they reminded their customers about the fundraising initiative.
"At the beginning, I didn't want to come off as rude," Dan commented. "But now I'm more upfront and honest about telling customers that if they don't post about their online store on their social media channels more than once, it won't raise much money for them."
Dan now speaks candidly with customers about the importance of promoting their online store through social media and doing so multiple times throughout the campaign. Businesses should not only post about the store on their main accounts, they should also encourage employees and customers to promote the initiative through their own personal social media channels to increase views and help drive additional sales. It's taken some testing, but Dan has become effective at tactfully explaining the importance of social selling.
Tips for Success
Lean Into Relationships
Turning to your customers during a difficult time shows a level of trust and care that truly drives home that person-to-person connection that is so essential in our industry. "After this is all over, your customers will appreciate you more because you reached out to help them and you told the truth," Dan's dad would tell him..
Streamline and Simplify
Preventing potential hiccups before they occur should be a top priority to ensure a successful project, especially when things get busy. Streamline the ordering process by simplifying product offerings and using online pop-up stores to collect orders and payments. Offering limited styles with one color logo designs will allow orders to be fulfilled quicker and with less hassle.
Leverage Social Media
To fully maximize all of the work that goes into creating and setting up a campaign, it's crucial to spread the word. Training and encouraging customers to take a lead in marketing their store has proven paramount to the success of fundraising efforts.
About OrderMyGear
OrderMyGear is an industry-leading sales tool, empowering dealers, distributors, decorators, and brands to create custom online pop-up stores to sell branded products and apparel. Since 2008, OMG has been on a mission to simplify the process of selling customized merchandise to groups and improve the ordering experience. With easy-to-use tools, comprehensive reporting, and unmatched support, the OMG platform powers online stores for over 3,000 clients generating more than $1 billion in online sales. Learn more at www.ordermygear.com.
Media Contact: Hayley Bell | hayley@ordermygear.com | 214-396-2110