California was one of the first states in the U.S. to announce a shelter-in-place order in response to the COVID-19 outbreak. It became clear early on that the restrictions would have a detrimental impact on small businesses throughout the state.
Investing in Community
Daniel Versola is the owner of Versola Design Studios, a custom apparel provider based out of Modesto, California. One of his clients, Get Fit Modesto, found itself transitioning their brick-and-mortar gym to an online fitness studio following the shelter-in-place mandate. And they weren't the only ones. Businesses throughout the Modesto community were starting to feel the operational impact and economic strain from the pandemic.
Daniel and the Get Fit Modesto Team wanted to do something to help the community they loved. Feeling moved to act, the trio began brainstorming ways to support other local businesses. The group agreed that whatever they did, it had to be community first, leading them to create an initiative called "We Are."

In this Together
Supporting the community was central to the Team's efforts, so they looped in the owners of their sister-gym, Get Fit Oakdale, to maximize their reach. Together, the group designed a campaign around the "We Are" concept with the goal of providing financial support to the local businesses who need it most.
The Team got to work creating a design that wasn't specific to the Get Fit gyms, but instead promoted a positive message that anyone in the community could get behind. Daniel quickly looped in a direct-to-garment printer to get a couple of shirts printed quickly for a photo shoot to use across their campaign.
Next, the Team partnered with OMG to launch an online pop-up store to sell the shirts, creating a custom field at checkout for customers to write in a local business for the campaign to support. Funds from the shirt sales are then used to purchase gift cards from the local businesses, and the Team randomly packed gift cards to customers who placed online orders.
The online store spread like wildfire. Initially, Get Fit Modesto and Get Fit Oakdale shared the initiative with their email lists and social media followers. As the campaign gained traction, people started sharing and tagging on their own, which allowed the campaign to grow organically.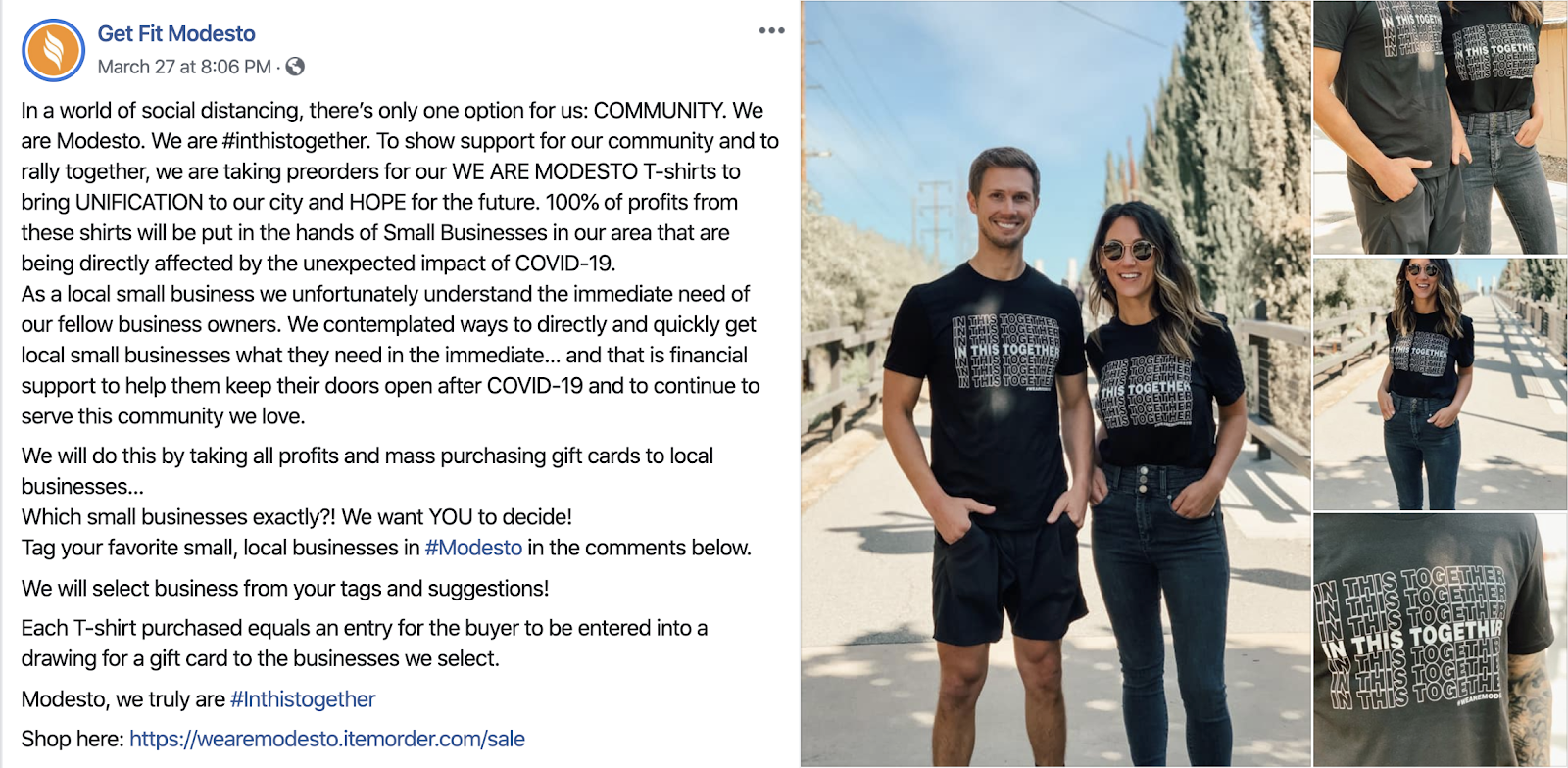 Keys to a Successful Campaign
After the initial online store, Daniel and the Get Fit Teams pre-sold over 1,000 shirts and raised $15,000 to be distributed back into their cities. They have also replicated the campaign to support 8 other cities nearby.
The key to their success stems from their deep-rooted love of community and desire to support others during a difficult time. Of the Get Fit Team, Daniel recalls, "they have a huge heart for the community. Their motto has community first, so the partnership and the movement made sense for everyone."
Reflecting on the success of the campaign, Daniel recommends decorators and distributors don't worry so much about all of the components like t-shirts or online stores. Instead, he suggests focusing on "building a strong launch Team, having a clear plan, and creating a short-sell window" to create urgency for customers to place orders.

Investing in People
While Daniel sees the stress many local businesses have felt over the past few weeks, he has also seen the financial strain that can hit individuals. Having experienced firsthand the burden that impacts individuals undergoing cancer treatments, Daniel is hypersensitive to seeking out ways to support those individuals. Finding a way to help his cousin amid such turmoil, Daniel was able to use an online pop-up store for fundraising over $3,000 to cover her medical expenses.
"This platform has provided me a great opportunity to reach people," Daniel reflects. "I like that I can help people when they're not sure what their future looks like because I know firsthand what it feels like living with cancer."
Follow the Get Fit campaigns here, the Get Fit Modesto Facebook page here, and the Get Fit Oakdale Facebook page here.
Check out this OrderMyGear sample store that mirrors the Versola Design Studios "We Are" online stores.


About OrderMyGear
OrderMyGear is an industry-leading sales tool, empowering dealers, distributors, decorators, and brands to create custom online pop-up stores to sell branded products and apparel. Since 2008, OMG has been on a mission to simplify the process of selling customized merchandise to groups and improve the ordering experience. With easy-to-use tools, comprehensive reporting, and unmatched support, the OMG platform powers online stores for over 3,000 clients generating more than $1 billion in online sales. Learn more at www.ordermygear.com.
Media Contact: Hayley Bell | hayley@ordermygear.com | 214-396-2110