"We planned to sell around 200 shirts to raise money for Brian's Steak House after it burned down," Kevin recalled. "But within 10 hours of opening the OMG online store, we had over 855 orders roll in!"
Kevin and Terry Blackwell are the owners of Trinity Custom Apparel & Promotional Products in South Hill, Virginia. Online stores have been part of their offering for over a year, and they've seen success hosting them for schools, Teams, fundraisers, and corporations.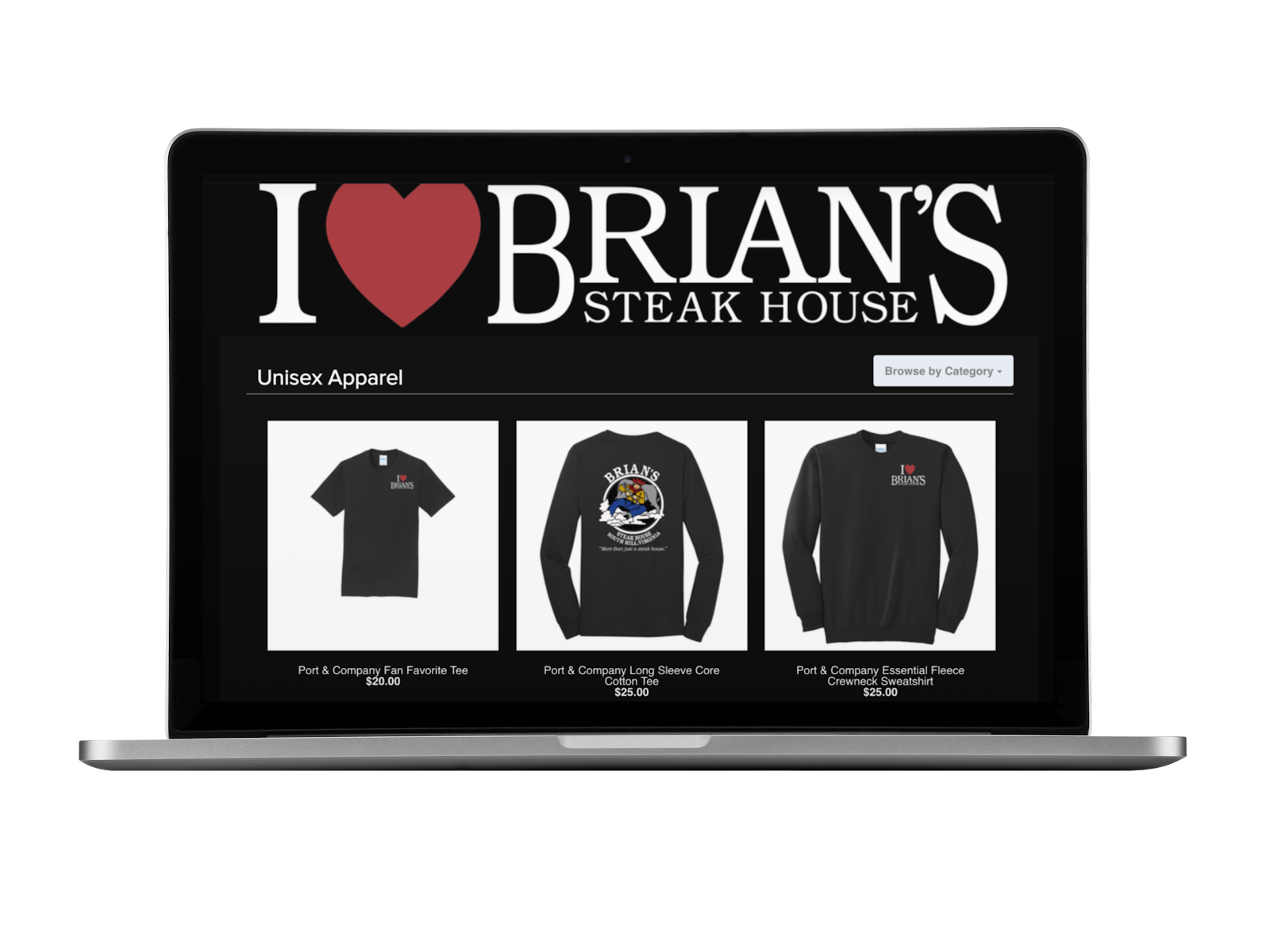 Hearing the News
When they heard the news about Brian's Steak House, they knew they needed to do something to support them. "I've known them all my life. Brian's Steak House is one of those community things where everyone goes there, their children work there, and they've hosted wedding receptions, homecomings, graduations, and proms," Kevin recounts. "The whole community has been a part of them, and they have been a part of the community for a long time."
Heartbreak filled the community as news spread about the restaurant burning down. Within just a day, jobs were lost, and a community icon no longer stood. "I told my wife that we need to do a fundraiser for them because they went to bed last night with a job then woke up this morning without one. I've been there before."
Hosting the Fundraiser
Faith Moore, Sales and Promotional Products Coordinator at Trinity Custom, created the OMG online store to host the fundraiser. "The OMG platform is great and so easy to use. And with everyone online and on social media right now, it made sense to do the fundraiser as an online store," Kevin stated.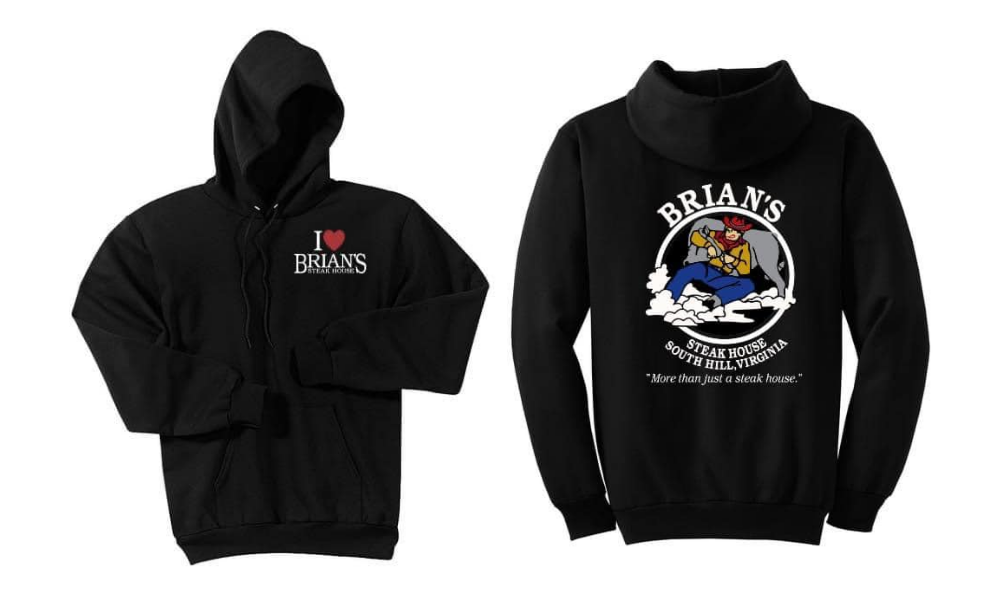 Keeping things simple, Faith and Kevin opted to offer items in just one color – black – to show community solidarity for the cause. 100% of the profits made from the online store would be given directly to the Brian's Steak House family.
Seeing the Impact
Ten hours after their online store opened, the community had already placed 855 orders. "Once we posted the store on social media, that thing went crazy!" Kevin said. "It was a lot of fun watching the orders come through, but we knew right away it would be a lot of work. Our slogan became, "don't let it steal your joy!" so we can remind ourselves how grateful we are to be able to support Brian's this way."
Kevin and the Team were able to move through the orders efficiently because of their "Keep it Simple" approach to the fundraiser. Local screen printers helped them get the orders fulfilled quicker. As customers started receiving their orders, they would post about it on social media, or wear it around to show their support.
After the fundraiser ended, Kevin and Terry were able to present a $26,000 check to Brian's Steak House. The Team was overwhelmed with gratitude and the show of support from the community.
"We couldn't believe it. We were just so happy that the community rallied around Brian's the way they did."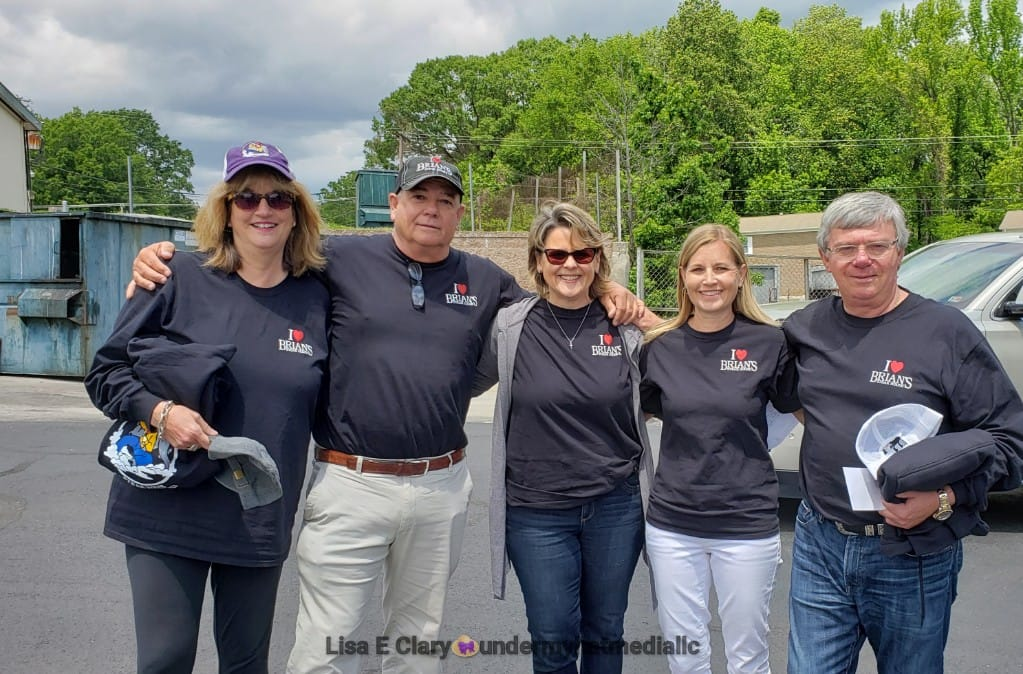 About OrderMyGear
OrderMyGear is an industry-leading sales tool, empowering dealers, distributors, decorators, and brands to create custom online pop-up stores to sell branded products and apparel. Since 2008, OMG has been on a mission to simplify the process of selling customized merchandise to groups and improve the ordering experience. With easy-to-use tools, comprehensive reporting, and unmatched support, the OMG platform powers online stores for over 3,000 clients generating more than $1 billion in online sales. Learn more at www.ordermygear.com.
Media Contact: Hayley Bell | hayley@ordermygear.com | 214-396-2110